05.05.2015 | Original Article | Ausgabe 5/2016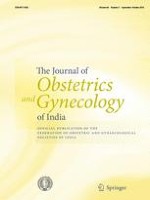 Role of PET–CT Scan in Gynaeconcology
Zeitschrift:
Autoren:

Ashwini A. Pawar, Digvijay B. Patil, Shilpa Patel, Meeta Mankad, Pariseema Dave
Abstract
The purpose of this study
This study was undertaken to evaluate the role of positron emission tomography–CT (PET–CT) in diagnosis and management of gynecological malignancies in primary and recurrent settings and also to investigate its role in inappropriately treated patients, for pretreatment evaluation (staging) to help in proper therapeutic management.
Method
This is a retrospective study of 56 patients of gynecological malignancy registered in Gujarat Cancer Research Institute from June 2011 to December 2013.
Results
Out of 56 cases where PET was done, the results were as follows: carcinoma cervix—23, carcinoma ovary—20, carcinoma endometrium—9, carcinoma vulva—1, carcinoma vagina—2, and GTN—1. PET scan was negative in 37 % of patients where CT scan was suspicious, which changed the therapeutic modality and prevented further unnecessary interventions. In cases where clinical suspicion of recurrence was high based on rising tumor marker and CT scan was negative, subsequent PET–CT was able to pick up malignancy in 75 % cases. Eleven patients (25 %) with suspected recurrence with inconclusive CT scan and negative PET–CT scan were kept on follow-up, thus reducing further morbidity and cost.
Conclusion
Addition of PET-CT, a noninvasive method to the oncologist's imaging armamentarium may ultimately improve both outcomes and costs by altering management strategies in primary and recurrent settings. The potential use of PET–CT appears promising in several decision-making steps in the management of patients with gynecological malignancy. It defines the extent of metastatic disease which enables the clinician to decide regarding salvageable surgical intervention or palliative measures.