26.04.2016 | Review | Ausgabe 4/2017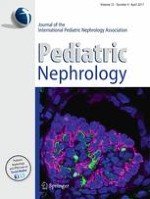 Role of renal urothelium in the development and progression of kidney disease
Zeitschrift:
Autoren:

Ashley R. Carpenter, Kirk M. McHugh
Abstract
The clinical and financial impact of chronic kidney disease (CKD) is significant, while its progression and prognosis is variable and often poor. Studies using the megabladder (
mgb
−/−
) model of CKD show that renal urothelium plays a key role in modulating early injury responses following the development of congenital obstruction. The aim of this review is to examine the role that urothelium has in normal urinary tract development and pathogenesis. We discuss normal morphology of renal urothelium and then examine the role that uroplakins (Upks) play in its development. Histologic, biochemical, and molecular characterization of
Upk1b
RFP/RFP
mice indicated Upk1b expression is essential for normal urinary tract development, apical plaque/asymmetric membrane unit (AUM) formation, and differentiation and functional integrity of the renal urothelium. Our studies provide the first evidence that Upk1b is directly associated with the development of congenital anomalies of the urinary tract (CAKUT), spontaneous age-dependent hydronephrosis, and dysplastic urothelia. These observations demonstrate the importance of proper urothelial differentiation in normal development and pathogenesis of the urinary tract and provide a unique working model to test the hypothesis that the complex etiology associated with CKD is dependent upon predetermined genetic susceptibilities that establish pathogenic thresholds for disease initiation and progression.