08.04.2019 | Colorectal Cancer | Ausgabe 7/2019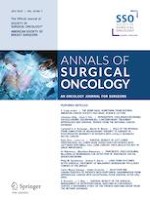 Role of the Interval from Completion of Neoadjuvant Therapy to Surgery in Postoperative Morbidity in Patients with Locally Advanced Rectal Cancer
Zeitschrift:
Autoren:

MD, PhD Campbell S. D. Roxburgh, MD Paul Strombom, MD Patricio Lynn, PhD Mithat Gonen, MD Philip B. Paty, MD Jose G. Guillem, MD Garrett M. Nash, MD, PhD J. Joshua Smith, MD Iris Wei, MD Emmanouil Pappou, MD, PhD Julio Garcia-Aguilar, MD Martin R. Weiser
Wichtige Hinweise
Electronic supplementary material
Publisher's Note
Springer Nature remains neutral with regard to jurisdictional claims in published maps and institutional affiliations.
Abstract
Background
Increasing the interval from completion of neoadjuvant therapy to surgery beyond 8 weeks is associated with increased response of rectal cancer to neoadjuvant therapy. However, reports are conflicting on whether extending the time to surgery is associated with increased perioperative morbidity.
Methods
Patients who presented with a tumor within 15 cm of the anal verge in 2009–2015 were grouped according to the interval between completion of neoadjuvant therapy and surgery: < 8 weeks, 8–12 weeks, and 12–16 weeks.
Results
Among 607 patients, the surgery was performed at < 8 weeks in 317 patients, 8–12 weeks in 229 patients, and 12–16 weeks in 61 patients. Patients who underwent surgery at 8–12 weeks and patients who underwent surgery at < 8 weeks had comparable rates of complications (37% and 44%, respectively). Univariable analysis identified male sex, earlier date of diagnosis, tumor location within 5 cm of the anal verge, open operative approach, abdominoperineal resection, and use of neoadjuvant chemoradiotherapy alone to be associated with higher rates of complications. In multivariable analysis, male sex, tumor location within 5 cm of the anal verge, open operative approach, and neoadjuvant chemoradiotherapy administered alone were independently associated with the presence of a complication. The interval between neoadjuvant therapy and surgery was not an independent predictor of postoperative complications.
Conclusions
Delaying surgery beyond 8 weeks from completion of neoadjuvant therapy does not appear to increase surgical morbidity in rectal cancer patients.