01.12.2017 | Research | Ausgabe 1/2017 Open Access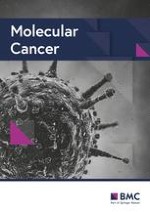 Role of the lncRNA ABHD11-AS1 in the tumorigenesis and progression of epithelial ovarian cancer through targeted regulation of RhoC
Zeitschrift:
Autoren:

Dan-Dan Wu, Xi Chen, Kai-Xuan Sun, Li-Li Wang, Shuo Chen, Yang Zhao
Wichtige Hinweise
Electronic supplementary material
The online version of this article (doi:
10.​1186/​s12943-017-0709-5
) contains supplementary material, which is available to authorized users.
Abstract
Background
There is increasing evidence in support of the role of lncRNAs in tumor cell proliferation, differentiation and apoptosis.
Methods
We examined the expression of the lncRNA ABHD11-AS1 in epithelial ovarian cancer (EOC) tissues and normal ovarian tissues by real-time quantitative PCR (qRT-PCR). After inducing ABHD11-AS1 downregulation by small interfering RNA (siRNA) or ABHD11-AS1 overexpression by plasmid transfection, we examined the EOC cell phenotypes and expression of related molecules.
Results
Expression of the lncRNA ABHD11-AS1 in EOC tissues was higher than that in normal ovarian tissue. It was positively associated with the tumor stage (stage I/II vs. stage III/IV), and it was lower in the well-differentiated group than in the poorly/moderately differentiated group. Overexpression of ABHD11-AS1 in the ovarian cancer cell lines A2780 and OVCAR3 promoted ovarian cancer cell proliferation, invasion and migration, and inhibited apoptosis. Silencing of ABHD11-AS1 had the opposite effect. Subcutaneous injection of tumor cells in nude mice showed that ABHD11-AS1 could significantly promote tumor growth. In addition, intraperitoneal injection of tumor cells in the nude mice resulted in an increase in the metastatic ability of the tumor. Further, overexpression of ABHD11-AS1 upregulated the expression of RhoC and its downstream molecules P70s6k, MMP2 and BCL-xL. Silencing of ABHD11-AS1 had the opposite effect. The RNA pull-down assay showed that ABHD11-AS1 can combine directly with RhoC. Silencing of RhoC was found to inhibit the cancer-promoting effects of lncRNA ABHD11-AS1. Thus, it seems that RhoC is a major target of the lncRNA ABHD11-AS1.
Conclusions
This is the first study to demonstrate the role of RhoC in the tumor-promoting effects of the lncRNA ABHD11-AS1. The present findings shed light on new therapeutic targets for ovarian cancer treatment.