20.01.2018 | Original Article - Functional | Ausgabe 5/2018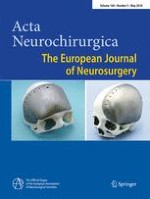 Role of the petrous ridge and angulation of the trigeminal nerve in the pathogenesis of trigeminal neuralgia, with implications for microvascular decompression
Zeitschrift:
Autoren:

Andrei Brinzeu, Chloé Dumot, Marc Sindou
Wichtige Hinweise
Comments
A majority of patients with trigeminal neuralgia have trigeminal root vascular contact on MRI. However, an even larger number of patients without trigeminal neuralgia have asymptomatic vascular contacts on imaging.
This has led to speculations about what extra ingredients are necessary for a vascular contact to cause trigeminal neuralgia, from a genetic predisposition to anatomical features such as cisternal crowding and arachnoidal thickening.
In this well-performed pilot study, the authors add another anatomical variable that might exacerbate the pathological effects of vascular contact. Petrosal bone angulation may tether or stretch the trigeminal root and thereby increase the impact of vessels such as the SCA in initiating trigeminal neuralgia.
The authors correctly point out the study limitations including small sample size and the nature of the control group.
Zvi Harry Rappaport
Petah Tiqva, Israel
Abstract
Introduction
Vascular compression is the main pathogenetic factor in apparently primary trigeminal neuralgia; however some patients may present with clinically classical neuralgia but no vascular conflict on MRI or even at surgery. Several factors have been cited as alternative or supplementary factors that may cause neuralgia. This work focuses on the shape of the petrous ridge at the point of exit from the cavum trigeminus as well as the angulation of the nerve at this point.
Methods
Patients with trigeminal neuralgia that had performed a complete imagery workup according to our protocol and had microvascular decompression were included as well as ten controls. In all subjects, the angle of the petrous ridge as well as the angle of the nerve on passing over the ridge were measured. These were compared from between the neuralgic and the non-neuralgic side and with the measures performed in controls.
Results
In 42 patients, the bony angle of the petrous ridge was measured to be 86° on the neuralgic side, significantly more acute than that of controls (98°,
p
 = 0.004) and with a trend to be more acute than the non-neuralgic side (90°,
p
 = 0.06). The angle of the nerve on the side of the neuralgia was measured to be on average 141°, not significantly different either from the other side (144°,
p
 = 0.2) or from controls (142°,
p
 = 0.4). However, when taking into account the grade of the conflict, the angle was significantly more acute in patients with grade II/III conflict than on the contralateral side, especially when the superior cerebellar artery was the conflicting vessel.
Conclusion
This pilot study analyzes factors other than NVC that may contribute to the pathogenesis of the neuralgia. It appears that aggressive bony edges may contribute—at least indirectly—to the neuralgia. This should be considered for surgical indication and conduct of surgery when patients undergo MVD.