01.12.2014 | Research | Ausgabe 1/2014 Open Access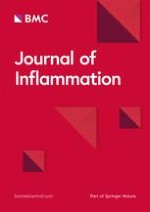 Role of toll-like receptors in human iris pigment epithelial cells and their response to pathogen-associated molecular patterns
Zeitschrift:
Autoren:

Kelly Mai, Jeanie JY Chui, Nick Di Girolamo, Peter J McCluskey, Denis Wakefield
Wichtige Hinweise
Electronic supplementary material
The online version of this article (doi:
10.​1186/​1476-9255-11-20
) contains supplementary material, which is available to authorized users.
Competing interests
Authors declare no conflict of interest.
Authors' contributions
KM designed, performed and analysed all the experiments and prepared the manuscript. JJYC assisted in data analyses, presentation and helped to draft the manuscript. NDG, PJM and DW designed experiments, supervised all aspects of the project and revised the manuscript. All authors read and approved the final manuscript.
Abstract
Background
Toll-like receptor (TLR) activation is hypothesized to contribute to inflammatory eye disease including uveitis, yet the distribution pattern of TLRs in human uveal tissues remains poorly described. The purpose of this study was to investigate the expression profile of TLRs in human iris pigment epithelial cells (IPE) at the gene and protein level and examine the effect of pathogen-associated molecular patterns (PAMPs), such as Pam
3
CSK
4
.3HCl, Poly(I:C), lipopolysaccharides (LPS from
E. coli
serotype O111:B4), Flagellin, MALP-2 (macrophage activating lipopeptide-2), Poly(U) and CpGODN2395 on the production of inflammatory mediators including interleukin-8 (IL-8) and monocyte chemotactic protein 1 (MCP-1) from human IPE and retinal pigment epithelial cells (RPE).
Methods
RT-PCR and Western blotting was employed to investigate the expression of TLRs 1–10 in primary IPE and RPE. Secretion of IL-8 or MCP-1 following treatment with PAMPs was measured by ELISA. The role of TLR2, TLR3 and TLR4 in mediating an inflammatory response was investigated using pharmacological TLR inhibitors.
Results
IPE and RPE expressed transcripts for TLR1-6 and 8–10; and proteins for TLR1-6 and 9. IPE secreted IL-8 or MCP-1 in response to Pam3CSK4.3HCl, Poly(I:C), LPS and MALP-2, whereas RPE produced IL-8 only after Poly(I:C), LPS or MALP-2 treatment. TLR inhibitors (OxPAPC, CI-095 and chloroquine) blocked IL-8 secretion in Poly(I:C), LPS or MALP-2-treated IPE and RPE.
Conclusions
Ocular pigment epithelial cells respond to PAMPs through activation of TLRs, particularly TLR2, TLR3 and TLR4. Expression of TLRs in human IPE cells provides a basis for responses to many ocular pathogens and their activation may be involved in the pathogenesis of ocular inflammation.