01.12.2014 | Research article | Ausgabe 1/2014 Open Access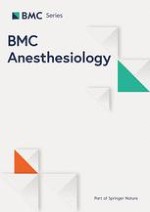 Ropivacaine attenuates endotoxin plus hyperinflation-mediated acute lung injury via inhibition of early-onset Src-dependent signaling
Zeitschrift:
Autoren:

Tobias Piegeler, Randal O Dull, Guochang Hu, Maricela Castellon, Andreia Z Chignalia, Ruben G Koshy, E Gina Votta-Velis, Alain Borgeat, David E Schwartz, Beatrice Beck-Schimmer, Richard D Minshall
Wichtige Hinweise
Electronic supplementary material
The online version of this article (doi:
10.​1186/​1471-2253-14-57
) contains supplementary material, which is available to authorized users.
Competing interest
The authors report no conflict of interest.
Authors' contributions
TP helped conceive the study, conducted experiments, analyzed the data, and wrote the manuscript; ROD helped with data analysis and wrote the manuscript, GH helped conceive the study and conducted experiments; MC and AZC conducted experiments; EGV helped conceive the study and wrote the manuscript; AB helped conceive the study and wrote the manuscript; DES helped conceive the study and wrote the manuscript; BBS helped conceive the study, performed data analysis, and wrote the manuscript; RDM conceived the study, analyzed data, and wrote the manuscript. The manuscript was read and approved by all the authors.
Abstract
Background
Acute lung injury (ALI) is associated with high mortality due to the lack of effective therapeutic strategies. Mechanical ventilation itself can cause ventilator-induced lung injury. Pulmonary vascular barrier function, regulated in part by Src kinase-dependent phosphorylation of caveolin-1 and intercellular adhesion molecule-1 (ICAM-1), plays a crucial role in the development of protein-/neutrophil-rich pulmonary edema, the hallmark of ALI. Amide-linked local anesthetics, such as ropivacaine, have anti-inflammatory properties in experimental ALI. We hypothesized ropivacaine may attenuate inflammation in a "double-hit" model of ALI triggered by bacterial endotoxin plus hyperinflation via inhibition of Src-dependent signaling.
Methods
C57BL/6 (WT) and
ICAM-1
−/−
mice were exposed to either nebulized normal saline (NS) or lipopolysaccharide (LPS, 10 mg) for 1 hour. An intravenous bolus of 0.33 mg/kg ropivacaine or vehicle was followed by mechanical ventilation with normal (7 ml/kg, NTV) or high tidal volume (28 ml/kg, HTV) for 2 hours. Measures of ALI (excess lung water (ELW), extravascular plasma equivalents, permeability index, myeloperoxidase activity) were assessed and lungs were homogenized for Western blot analysis of phosphorylated and total Src, ICAM-1 and caveolin-1. Additional experiments evaluated effects of ropivacaine on LPS-induced phosphorylation/expression of Src, ICAM-1 and caveolin-1 in human lung microvascular endothelial cells (HLMVEC).
Results
WT mice treated with LPS alone showed a 49% increase in ELW compared to control animals (
p
 = 0.001), which was attenuated by ropivacaine (
p
 = 0.001). HTV ventilation alone increased measures of ALI even more than LPS, an effect which was not altered by ropivacaine. LPS plus hyperinflation ("double-hit") increased all ALI parameters (ELW, EVPE, permeability index, MPO activity) by 3–4 fold compared to control, which were again decreased by ropivacaine. Western blot analyses of lung homogenates as well as HLMVEC treated in culture with LPS alone showed a reduction in Src activation/expression, as well as ICAM-1 expression and caveolin-1 phosphorylation. In
ICAM-1
−/−
mice, neither addition of LPS to HTV ventilation alone nor ropivacaine had an effect on the development of ALI.
Conclusions
Ropivacaine may be a promising therapeutic agent for treating the cause of pulmonary edema by blocking inflammatory Src signaling, ICAM-1 expression, leukocyte infiltration, and vascular hyperpermeability.