18.09.2017 | Original Article | Ausgabe 12/2017 Open Access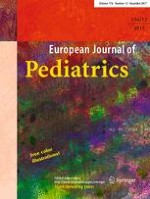 Routine gastric residual volume measurement and energy target achievement in the PICU: a comparison study
Zeitschrift:
Autoren:

Lyvonne N. Tume, Anna Bickerdike, Lynne Latten, Simon Davies, Madeleine H. Lefèvre, Gaëlle W. Nicolas, Frédéric V. Valla
Wichtige Hinweise
Communicated by Mario Bianchetti
Abbreviations
CDC
Centre for Disease Control
IRB
Institutional Review Board
NEC
Necrotising enterocolitis
PICU
Paediatric Intensive Care Unit
PIM score
Paediatric Index of Mortality
RDA
Recommended dietary allowance
SPSS
Statistical Package for the Social Sciences
VAP
Ventilator-acquired pneumonia
Introduction
Inadequate delivery of enteral nutrition remains a problem in critically ill children. An international study involving 800 children in 31 PICUs found that only 37% of children received their prescribed energy intake whilst in intensive care, and it took nearly 12 days for them to achieve even 90% of their calorie target [
23
]. A common nursing practice to assess enteral nutrition (EN) 'tolerance' is to measure gastric residual volume (GRV) regularly in critically ill patients, and it is often a factor in the decision to stop or hold enteral nutrition [
33
,
35
]. Indeed, perceived 'high' GRV levels often lead to withholding EN, and such interruptions are a common barrier to delivering EN in PICUs [
16
]. Despite this, the evidence for GRV to assess feed tolerance is poor, with GRV not correlating consistently to enteral feeding volumes and the measurement itself often being inaccurate [
2
,
18
,
20
]. In addition, what volume constitutes an 'acceptable' level of GRV remains unknown. GRV is routinely measured in all UK PICUs [
33
]. This practice, however, is very variable in terms of frequency, acceptable volumes and actions in response to GRV [
33
], yet it is not standard practice in 40% of French PICUs [
35
]. Thus, we aimed to compare outcomes in a PICU which routinely measures GRV to a PICU that does not.
Methods
An observational pilot comparison study was undertaken between two paediatric intensive care units. PICU-GRV is a PICU that routinely measured GRV in Liverpool, UK; PICU-noGRV is a unit that does not routinely measure GRV in Lyon, France. The units were comparable by size and volume, but as the PICU-noGRV did not admit cardiac surgical children, these patients were excluded in PICU-GRV. The study objectives were to identify whether routine GRV measurement impacted on energy delivery in mechanically ventilated PICU patients and to identify whether routine GRV measurement impacted on the incidence of complications: vomiting, necrotising enterocolitis (NEC) and ventilator-acquired pneumonia (VAP). The study inclusion criteria were as follows:
Mechanically ventilated children (0–17 years) admitted onto the PICU with a nasogastric tube or gastrostomy tube in situ

Invasive ventilation expected to last for more than 72 h
The exclusion criteria were as follows:
Post-operative cardiac surgical children

Pre-term infants < 37 weeks' gestation (but history of prematurity was not an exclusion criteria)

Children > 17 years of age

Children who had contraindications for enteral feeding according to local guidelines (see Table

1

)

Children who received post-pyloric feeding
Table 1
Comparison of standard practices in study units that may have an impact on feeding tolerance and gastric clearance
Variable/practice

PICU 1 (routine GRV)

PICU 2 (no routine GRV)

Unit Size

24 PICU beds

Admits 0–17 years

23 PICU and HDU beds

Admits 0–17 years

RN: patient ratio

1:1

1:2

Nursing staff with specialist PIC qualification

52%

5%

Written feeding policy

Yes

Yes

Dedicated dietetic support

Yes

Yes

Energy target estimation

Schofield equation (adjusted age, sex weight)

Schofield equation—adjusted age, sex, height, weight) or (Schofield + RDA) / 2 in infants < 4 months

Energy goals

(sedated ventilated children)

Aims to achieve target predicted energy requirements by day 2 or 3

Aims to achieve target predicted energy requirements by day 2 or 4

GRV measured

Yes, every 4–5 h

Feeds withheld if > 5 mls/kg or maximum 300 ml

No

Feeding method used

Bolus feeding in infants q 2–3 hourly and continuous feeds (4 h on 1 h off) in older children, but method is RN decision

All continuous over 24 h continuous infusion rate calculated on a 23 h basis (mL/h = daily prescribed volume/23) to compensate involuntary delay

Target feed start time

Within 6 h of admission

Within 24 h of admission

Feed advancement rate

Dependant on feed tolerance based on the GRV measurements above

Once a day with the aim to meet energy targets within 48–96 h

Jejunal tubes

Not as a first line, except severe burns, but placed if NG feeds not tolerated

Not in the first place; if high risk patients (brain injury) or feeding intolerance

Polymeric/semi-elemental feeds

Polymeric unless history of short gut/liver dysfunction

Polymeric unless child on elemental feeds prior to admission

Isocaloric/hyper-caloric feeds

Isocaloric first line then adjusted to meet requirements

Isocaloric (85% patients)

Fibres/no fibres in EN

Fibre feeds except if history of GI pathology (short gut, etc)

Fibres added

Use of prokinetics, laxatives

Not routine, only in traumatic brain injury or if feeding problems

Not routine, only in acute neurological disease or if feeding problems

Guidance on withholding EN

Bowel obstruction, active gut haemorrhage, non-intubated patients with acute altered consciousness

Not restricted if on vasoactive drugs or, only if serum lactate > 2 mmol/l

Bowel obstruction, active gut haemorrhage, non-intubated patients with acute altered consciousness, increasing doses of vasoactive drugs but physician-dependent

Guidance on stopping EN

Vomiting, abdominal distension, pain

If lactate > 2 mmol/l, large GRV > 5 ml/kg or 300 ml

6 h prior to extubation

For transport: depends on procedure

Vomiting, abdominal distension, pain

4 h prior to extubation

For transport: immediately prior

Use of cuffed ETTs

75%

95%

Usual sedation and analgesia for > 1 day ventilation

Morphine or fentanyl and midazolam

Sufentanyl and midazolam ± ketamine

Sedation assessment score

COMFORT-B

COMFORT-B

VAP bundle

Yes, with head up and regular oral care and closed suction

No but all nursed head up 30–45 degrees + regular oral care

Use of neuromuscular blocking agents

30% patients (mainly brain injury, unstable airways, difficult ventilation ARDS)

7% of all patients (mainly ARDS, brain injury, airway surgery)

VAP diagnostic criteria

CDC 2009 and antibiotics started

CDC 2009 and antibiotics started
Data was collected in 2016–2017 prospectively in PICU-GRV and retrospectively in PICU-noGRV at two time points within a 12-month period. The settings and standard practices (that may impact on nutrition and enteral feeding) are compared between the two centres in Table
1
. Both units used predictive equations (Schofield equation) to set energy targets in ventilated children, as neither centre used indirect calorimetry. PICU-noGRV increased energy targets for children under the age of 4 months, following the equation (Schofield + RDA)/2.
The primary outcome used in this study was the percentage of target energy requirements achieved per day of the child's PICU stay. Secondary outcomes were incidence of vomiting, NEC (in infants) and VAP. VAP was defined consistently using the 2009 CDC criteria. The diagnosis of NEC was confirmed using Bell's criteria and suspected NEC defined if active intervention was taken (instituting fasting and the commencement of triple antibiotics). Vomiting was defined pragmatically, as that reported and documented by the bedside nurse and any incidence of these per 24 h was considered as a positive event.
Data analysis
Data collected was entered into a Microsoft Excel database. Descriptive statistics were undertaken first. Normally distributed data is presented as mean (SD) and non-normally distributed data as median and IQR. The data was then imported into IBM SPSS version 22 for further inferential analysis. Inferential analysis undertaken compared the two groups. Independent
t
test was used if the data was normally distributed and non-parametric tests, Mann-Whitney and Chi-square used if it was not. A
p
value < 0.05 was considered significant and two-tailed tests were used. The UK study was registered as service evaluation with the NHS Trust (reference 5194) and in France, the centre received IRB approval (Reference No. 00009118, Comité de protection des personnes 89 Lyon sud-est 2); in both instances, a waiver of consent was granted as no identifiable patient data was collected.
Results
Eighty-seven children who met the study inclusion criteria were included in the study over two time periods in a 12-month period: 42 in PICU-GRV and 45 in PICU NoGRV. There was no significant difference in age, weight or sex between the two groups. The median age was 5.3 months (PICU-GRV) vs 9.7 months (PICU-noGRV); the median weight was 5.4 kg (PICU-GRV) vs 9.8 kg (PICU-noGRV) and 60% children were male (Table
2
). The majority of admitted children had a medical diagnosis, mostly respiratory or neurological failure (Table
2
). Children in PICU-noGRV were significantly sicker at admission (
p
< 0.001) and had significantly longer length of ventilation (
p
= < 0.001) and length of PICU stay (
p
= < 0.001). Between PICU-GRV and PICU-noGRV, a comparison of standard practices that may have an impact on feeding tolerance and gastric clearance was broadly similar. (Table
1
). The main differences were that PICU-GRV initiated enteral feeding significantly earlier than did PICU noGRV (mean 7.8 (7.4) versus 21.5 h (18.3)) (
p
= <0.001), and PICU-noGRV fed all (100%) children continuously, compared to 41% in PICU-GRV (
p
= < 0.001). There were no significant differences in the median percentage of energy targets achieved in the first 4 days of PICU admission; however, PICU-noGRV showed more consistent (with less variance around 100% of the predicted energy targets achieved) and less under and over feeding (Table
3
). The incidence of vomiting (between day 1 to 4) was higher in the PICU-GRV but was not statistically significant (
p
= 0.339). No NEC was confirmed in either centre and VAP rates were similar 7.01 per 1000 ventilator days (2/42) in PICU-GRV and 5.31 per 1000 ventilator days (3/45) in PICU-noGRV (
p
= 0.70), despite the significantly longer length of ventilation in PICU-noGRV (Table
4
).
Table 2
Patient demographics
Demographic

PICU-GRV

PICU-noGRV

Age (months)

 median (IQR)

5.3 (1.9–44.5)

9.7 (1.5–78)

0.724

 Sex (% male)

61.9% (26/42)

57.7% (26/45)

0.412

Admission weight (kg)

 Median (IQR)

5.4 (3.8–15.5)

9.8 (4.09–26)

0.220

 Z score (weight for age) (mean SD)

0.043 (1.06)

0.104 (1.60)

0.834

 Diagnostic group/PICU admission reason

Respiratory failure 81%

Respiratory failure 42%

Neurological failure 10%

Neurological failure 42%

Sepsis 4%

Sepsis 6.6%

Cardiovascular 2%

Cardiovascular 4.4%

Miscellaneous 3%

Post-op surgical 2.2%

Trauma 2.2%

Miscellaneous 0.6%

PIM2 score

 Mean (SD)

0.05 (0.079)

0.09 (.218)

< 0.001

 No IV sedation/opiate

21% (9/42)

0%

< 0.001

 IV Opiate ± sedation

50% (21/42)

58% 26/46

 Sedation + neuromuscular blockade

29% (12/42)

42% (19/45)

0.263

 Died

2.3% (1/42)

6.6% (3/45)

0.339

LOV (days)

 Median (IQR)

5 (3–7)

7.5 (5.9–11.7)

< 0.001

 LOS (days)

 Median (IQR)

6 (3–9)

13 (11–20)

< 0.001
Table 3
Detailed enteral feeding data per PICU
EN parameter

Time to first feed (hours) mean and SD

7.84 (7.38)

21.5 (18.3)

< 0.001

Percentage of children continuously fed

41% (17/41)

100% (45/45)

< 0.001

Percentage of energy prescribed actually delivered

Day 1

 Mean (SD)

47.9 (41.1)

49.5 (49.9)

0.865

 Median (IQR)

36.7 (14–72)

44.25 (0–100)

0.358

Day 2

 Mean (SD)

92.6 (52.2)

93.6 (44.6)

0.921

 Median (IQR)

97 (52.8–126.2)

100 (99.6–100.8)

0.989

 Day 3

 Mean (SD)

82.1 (40.3)

94.5 (22.5)

0.120

 Median (IQR)

84.3 (45–112.5)

100 (100–100.5)

0.477

Day 4

 Mean (SD)

101.2 (39.2)

96.2 (16.9)

0.597

 Median (IQR)

107 (63.1–124.2)

100 (100–100.8)

0.208

Daily hours no EN delivered

 Day 1

100% patients

2% patients

 Mean, (SD)

8.4 (5.3)

6 (SD 0)

 Day 2

100% patients

0% patients

 Mean (SD)

10.5 (6.2)

 Day 3

100% patients

6.6% patients

 Mean (SD)

10.1 (6.4)

14.3 (SD 4.4)

 Day 4

100% patients

8.8% patients

 Mean (SD)

9.6 (6.6)

8 (SD 2.7)
Table 4
Adverse events data outcomes
Vomiting incidence in first 4 days

Day 1 (n = 42)

7.1% (3/42)

4.4% (2/45)

7.69% (3/39)

2.2% (1/45)

3.2% (1/31)

0% (0/45)

0% (0/20)

8.8% (4/45)

Vomiting at any time (days 1–4)

0.39

Events during PICU admission

 VAP per 1000 ventilator days

7.1

5.3

0.70

 Confirmed NEC

0

0
In PICU-GRV, enteral feeding was withheld in all children for a median range of between 8.8–10.5 h a day in the first 4 days (Table
3
). PICU-noGRV rarely withheld enteral feeding. In PICU-GRV, GRV was measured from 2 to 15 times in a 24-h period. The mean volume of aspirate obtained per patient was 1.2 mls/kg (median 0.96 mls/kg; range 0.03–3.3 mls/kg). Of the aspirates where fluid was aspirated, 77% of these were returned to the child and 23% were discarded, with the reason for this unclear.
Discussion
Conclusions
Routine gastric residual volume measurement is common practice in PICUs internationally. Although we did not demonstrate that this practice significantly impaired the achievement of predicted energy targets in the first 4 days of a child's PICU admission, consistent achievement of energy targets was higher in PICU-noGRV. Most importantly, however, we found that not measuring GRV did not increase the incidence of vomiting, ventilator acquired pneumonia or necrotising enterocolitis. This is the key concern for clinicians at the bedside. The routine practice of GRV measurement remains important and needs to be questioned, and larger studies are needed in critically ill children to determine the impact on energy targets.
Acknowledgements
The lead authors LT and FV are members of the Nurse Science (LT) and the Nutrition sections (FV, LT) of ESPNIC. This study was undertaken in collaboration by these members of the two sections.
Compliance with ethical standards
All procedures performed in studies involving human participants were in accordance with the ethical standards of the institutional and/or national research committee and with the 1964 Helsinki Declaration and its later amendments or comparable ethical standards. In both studies, a waiver of consent was granted as no identifiable patient data was collected.
Conflict of interest
The authors declare that they have no conflicts of interest.
Open Access
This article is distributed under the terms of the Creative Commons Attribution 4.0 International License (http://creativecommons.org/licenses/by/4.0/), which permits unrestricted use, distribution, and reproduction in any medium, provided you give appropriate credit to the original author(s) and the source, provide a link to the Creative Commons license, and indicate if changes were made.