01.04.2014 | Original Article | Ausgabe 2/2014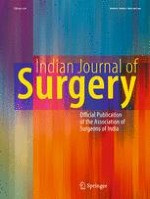 Routine Histopathologic Examination of Two Common Surgical Specimens—Appendix and Gallbladder: Is It a Waste of Expertise and Hospital Resources?
Zeitschrift:
Autoren:

Sushma N. Ramraje, Veena I. Pawar
Abstract
This study was undertaken to assess whether a routine histopathologic examination of two common surgical specimens (appendix and gallbladder) is needed and whether routine histopathologic examination has an impact on further management of patients. Histopathology reports of patients who had undergone appendicectomy and cholecystectomy, between 2006 and 2010, were analyzed retrospectively in the department of pathology of a tertiary care hospital. The case notes were retrieved in all cases of malignancies. Patients having a clinical diagnosis or suspicion of malignancy were excluded. The incidence and impact of unexpected pathologic diagnosis on postoperative management were noted. The study period included a total of 1,123 and 711 appendicectomy and cholecystectomy specimens, respectively. Fifteen (1.336 %) cases of appendicectomy specimens revealed incidental unexpected pathological diagnoses, which included tubercular appendicitis (
n =
 2), parasite (
n =
 8), neuroma (
n =
 1), carcinoid (
n =
 2), pseudomyxoma (
n =
 1), and adenocarcinoma (
n =
 1). About 88 % of such unexpected appendiceal findings had an impact on postoperative treatment. Unexpected pathologic gallbladder findings were found in 12 (1.68 %) of 711 cholecystectomy specimens. In 6 (0.84 %) cases, gallbladder cancer (GBC) was detected. Additional further management was required in 50 % of patients with unexpected gallbladder findings. Twenty of the total 1,834 specimens (1.090 %) had an impact on patient management or outcome and were not suspected on macroscopic examination at the time of surgery. These would have been missed had the specimens not been examined microscopically. The intraoperative diagnosis of the surgeon is therefore sometimes doubtful in detecting abnormalities of the appendix and gallbladder. This study supports the sending of all appendicectomy and cholecystectomy specimens for routine histopathological examination. Appendix and gallbladder should undergo routine histopathological examination. This is important in patients with advanced age and gallstones. Also, it is of great value in identifying unsuspected conditions which require further postoperative management. Selectively sending specimens for histopathological examination can result in reduced workload on the histopathology department without compromising patient safety.