01.12.2017 | Primary research | Ausgabe 1/2017 Open Access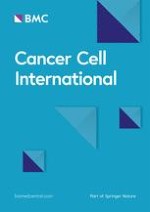 rs35301225 polymorphism in miR-34a promotes development of human colon cancer by deregulation of 3′UTR in E2F1 in Chinese population
Zeitschrift:
Autoren:

Haiqiang Jiang, Fengyuan Ge, Beina Hu, Lamei Wu, Huijian Yang, Huiyun Wang
Abstract
Background
Previous reports have revealed that down-regulation of miR-34a expression can promote colorectal cancer (CRC) cell growth by targeting cell cycle-related transcriptional factor E2F1. To date, the function of the single nucleotide polymorphism (SNP) located in the mature region of miR-34a has not been investigated.
Methods
We performed a case–control study including 685 CRC patients and 618 cancer-free controls. Genotyping, real-time PCR assay, cell transfection, and the dual luciferase reporter assay were used in our study. Cell proliferation and cell cycle analysis were measured in CRC cells including Hct-116 and SW480. The overall survival of different genotypes was also investigated.
Results
We found that the rs35301225 polymorphism in miR-34a was involved in the occurrence of CRC by acting as a tumor suppressor by down-regulation of tumor-promoting gene E2F1. C/A SNP of miR-34a could promote CRC cell proliferation by up-regulation of E2F1. Also, C/A genotype can change the cell cycle by increasing the S phase percentage. Moreover, the SNP in rs35301225 of miR-34a was associated with tumor size and tumor differentiation, as well as metastasis in CRC patients; C/A SNP was related to the significantly enhanced expression of E2F1 and shorter survival in post-surgery CRC patients.
Conclusions
rs35301225 in miR-34a was highly associated with a decreased risk of CRC in a Chinese population and might serve as a novel biomarker for colon cancer.