01.12.2012 | Research | Ausgabe 1/2012 Open Access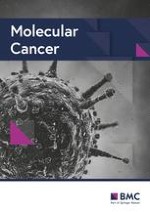 Runx2 mediates epigenetic silencing of the bone morphogenetic protein-3B (BMP-3B/GDF10) in lung cancer cells
Zeitschrift:
Autoren:

Manish Tandon, Karthiga Gokul, Syed A Ali, Zujian Chen, Jane Lian, Gary S Stein, Jitesh Pratap
Wichtige Hinweise
Electronic supplementary material
The online version of this article (doi:
10.​1186/​1476-4598-11-27
) contains supplementary material, which is available to authorized users.
Manish Tandon, Karthiga Gokul, Syed A Ali contributed equally to this work.
Competing interest
The authors declare that they have no competing interests.
Author's contributions
MT and KG generated stable cell lines and analyzed cellular and molecular effects of Runx2 overexpression or knockdown (proliferation assay, wound healing assay, real time RT-PCR analysis, Western blots); SA performed ChIP and co-immunoprecipitation assays; ZC performed real time RT-PCR analysis and Western blots of samples with Runx2 overexpression or knockdown; JL and GS participated in the data analysis; JP conceived and coordinated the study and wrote the major part of the paper. All authors read and approved the final manuscript.
Abstract
Background
The Runt-related transcription factor Runx2 is essential for bone development but is also implicated in progression of several cancers of breast, prostate and bone, where it activates cancer-related genes and promotes invasive properties. The transforming growth factor β (TGF-β) family member bone morphogenetic protein-3B (BMP-3B/GDF10) is regarded as a tumor growth inhibitor and a gene silenced in lung cancers; however the regulatory mechanisms leading to its silencing have not been identified.
Results
Here we show that Runx2 is highly expressed in lung cancer cells and downregulates BMP-3B. This inverse relationship between Runx2 and BMP-3B expression is further supported by increased expression of BMP-3B in mesenchymal cells from Runx2 deficient mice. The ectopic expression of Runx2, but not DNA binding mutant Runx2, in normal lung fibroblast cells and lung cancer cells resulted in suppression of BMP-3B levels. The chromatin immunoprecipitation studies identified that the mechanism of Runx2-mediated suppression of BMP-3B is due to the recruitment of Runx2 and histone H3K9-specific methyltransferase Suv39h1 to BMP-3B proximal promoter and a concomitant increase in histone methylation (H3K9) status. The knockdown of Runx2 in H1299 cells resulted in decreased histone H3K9 methylation on BMP-3B promoter and increased BMP-3B expression levels. Furthermore, co-immunoprecipitation studies showed a direct interaction of Runx2 and Suv39h1 proteins. Phenotypically, Runx2 overexpression in H1299 cells increased wound healing response to TGFβ treatment.
Conclusions
Our studies identified BMP-3B as a new Runx2 target gene and revealed a novel function of Runx2 in silencing of BMP-3B in lung cancers. Our results suggest that Runx2 is a potential therapeutic target to block tumor suppressor gene silencing in lung cancer cells.