01.09.2009 | Case Report | Ausgabe 9/2009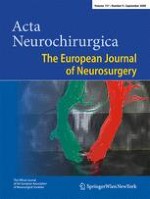 Ruptured subclavian artery pseudo-aneurysm associated with Neurofibromatosis type 1
Zeitschrift:
Autoren:

Shigeyuki Sakamoto, Masayuki Sumida, Shinichiro Takeshita, Masaaki Shibukawa, Yoshihiro Kiura, Takahito Okazaki, Kaoru Kurisu
Wichtige Hinweise
Comment
I believe this is an interesting case report. The vasculopathy associated with neurofibromatosis can be devastating despite its rarity. Endovascular management reports are worth presenting as it is unclear whether in this disease context it is as safe as surgery.
Michael Kerin Morgan
Australian School of Advanced Medicine, Sydney, Australia
Abstract
Objective
A subclavian artery aneurysm associated with Neurofibromatosis type 1 (NF 1) is extremely rare. We report a ruptured pseudo-aneurysm of the subclavian artery in a patient with NF 1 treated with endovascular surgery.
Clinical description
A 51 year old man with NF 1 presented with initially sudden left neck pain and continuous dysphagia. Radiological examination showed a pseudo-aneurysm of the left subclavian artery. Endovascular stenting and coil embolisation was performed to prevent rebleeding and the lesion was completely obliterated. Follow-up angiography at 3 months revealed good flow through the stent without flow into the pseudo-aneurysm.
Conclusion
Our patient is the first reported example of successful endovascular treatment for a ruptured subclavian artery pseudo-aneurysm associated with NF 1. Endovascular stenting and coil embolisation for the ruptured subclavian artery pseudo-aneurysm was very effective.