01.12.2017 | Research | Ausgabe 1/2017 Open Access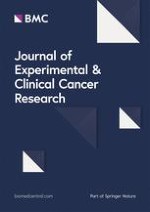 (S)-crizotinib induces apoptosis in human non-small cell lung cancer cells by activating ROS independent of MTH1
Zeitschrift:
Autoren:

Xuanxuan Dai, Guilong Guo, Peng Zou, Ri Cui, Weiqian Chen, Xi Chen, Changtian Yin, Wei He, Rajamanickam Vinothkumar, Fan Yang, Xiaohua Zhang, Guang Liang
Wichtige Hinweise
Electronic supplementary material
The online version of this article (doi:
10.​1186/​s13046-017-0584-3
) contains supplementary material, which is available to authorized users.
Abstract
Background
Non–small cell lung cancer (NSCLC) accounts for approximately 80–85% of all lung cancers and is usually diagnosed at an advanced stage with poor prognosis. Targeted therapy has produced unprecedented outcomes in patients with NSCLC as a number of oncogenic drivers have been found. Crizotinib, a selective small-molecule inhibitor, has been widely used for the treatment of NSCLC patients with ALK gene rearrangements. A recent study has also shown that (S)-enantiomer of crizotinib exhibits anticancer activity by targeting the protein mutT homologue (MTH1). Since this discovery, contradictory studies have cast a doubt on MTH1 as a therapeutic target of (S)-crizotinib.
Methods
NCI-H460, H1975, and A549 cells and immunodeficient mice were chosen as a model to study the (S)-crizotinib treatment. The changes induced by (S)-crizotinib treatment in cell viability, apoptosis as well as ROS, and endoplasmic reticulum stress pathway in the cells were analyzed by MTT assay, FACSCalibur, Western blotting, ROS imaging and electron microscopy.
Results
Here, we report that MTH1 does not affect survival of NSCLC cells. We found that (S)-crizotinib induces lethal endoplasmic reticulum stress (ER) response in cultured NSCLC cells by increasing intracellular levels of reactive oxygen species (ROS). Blockage of ROS production markedly reversed (S)-crizotinib-induced ER stress and cell apoptosis, independent of MTH1. We confirmed these findings in NSCLC xenograft studies and showed that (S)-crizotinib-induced ER stress and cell apoptosis.
Conclusions
Our results reveal a novel antitumor mechanism of (S)-crizotinib in NSCLC which involves activation of ROS-dependent ER stress apoptotic pathway and is independent of MTH1 inhibition.