01.03.2012 | Original Contribution | Ausgabe 2/2012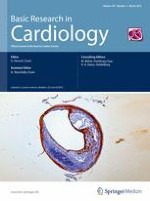 S100A8/A9 aggravates post-ischemic heart failure through activation of RAGE-dependent NF-κB signaling
Zeitschrift:
Autoren:

H. Christian Volz, Danai Laohachewin, Cathrin Seidel, Felix Lasitschka, Kirsten Keilbach, Alexandra R. Wienbrandt, Joachim Andrassy, Angelika Bierhaus, Ziya Kaya, Hugo A. Katus, Martin Andrassy
Wichtige Hinweise
Electronic supplementary material
The online version of this article (doi:
10.​1007/​s00395-012-0250-z
) contains supplementary material, which is available to authorized users.
Abstract
The extracellular heterodimeric protein S100A8/A9 activates the innate immune system through activation of the receptor of advanced glycation end products (RAGE) and Toll-like receptors. As activation of RAGE has recently been associated with sustained myocardial inflammation and heart failure (HF) we studied the role of S100A8/A9 in the development of post-ischemic HF. Hypoxia led to sustained induction of S100A8/A9 accompanied by increased nuclear factor (NF-)κB binding activity and increased expression of pro-inflammatory cytokines in cardiac fibroblasts and macrophages. Knockdown of either S100A8/A9 or RAGE rescued the induction of pro-inflammatory cytokines and NF-κB activation after hypoxia. In a murine model of post-ischemic HF both cardiac RNA and protein levels of S100A8/A9 were elevated as soon as 30 min after hypoxia with sustained activation up to 28 days after ischemic injury. Treatment with recombinant S100A8/A9 resulted in reduced cardiac performance following ischemia/reperfusion. Chimera experiments after bone marrow transplantation demonstrated the importance of RAGE expression on immune cells for their recruitment to the injured myocardium aggravating post-ischemic heart failure. Signaling studies in isolated ventricles indicated that MAP kinases JNK, ERK1/2 as well as NF-κB mediate signals downstream of S100A8/A9-RAGE in post-ischemic heart failure. Interestingly, cardiac performance was not affected by administration of S100A8/A9 in RAGE−/−-mice, which demonstrated significantly improved cardiac recovery compared to WT-mice. Our study provides evidence that sustained activation of S100A8/A9 critically contributes to the development of post-ischemic HF driving the progressive course of HF through activation of RAGE.