01.12.2018 | Research | Ausgabe 1/2018 Open Access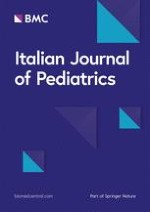 S737F is a new CFTR mutation typical of patients originally from the Tuscany region in Italy
Zeitschrift:
Autoren:

Vito Terlizzi, Antonella Miriam Di Lullo, Marika Comegna, Claudia Centrone, Elisabetta Pelo, Giuseppe Castaldo, Valeria Raia, Cesare Braggion
Abstract
Background
An increasing number of patients have been described as having a number of
Cystic Fibrosis Transmembrane conductance Regulator
(CFTR) variants for which it lacks a clear genotype–phenotype correlation. We assesses the clinical features of patients bearing the S737F (p.Ser737Phe) CFTR missense variant and evaluated the residual function of CFTR protein on nasal epithelial cells (NEC).
Methods
A retrospective database was performed from individuals homozygous or compound heterozygous for the S737F variant followed in the Cystic Fibrosis (CF) Centre of Florence. We performed a nasal brushing in cooperating patients and compared the results with those of patients followed in the pediatric CF Centre of Naples.
Results
9/295 (3%) subjects carrying at least S737F CFTR variant on one allele were identified. Patients were diagnosed in 7/9 cases by newborn screening and in two cases for dehydration with hypochloremic metabolic alkalosis; at diagnosis sweat chloride levels (SCL) were in the pathological range in only one case. After a mean follow up of 8,6 years (range 0,5–15,8), SCL were in the pathological range in 8/9 cases (mean age at CF diagnosis: 1,5 years), all patients were pancreatic sufficiency and respiratory function was normal. The gating activity on NEC was 15.6% and 12.7% in two patients compound heterozygous for W1282X and DelE22_24, while it was ranged between 6,2% and 9,8% in CF patients.
Conclusions
S737F is a CFTR mutation associated to hypochloremic alkalosis in childhood, mild CF phenotype in teenage years and a residual function of CFTR protein.