14.06.2016 | Original Article | Ausgabe 9/2016 Open Access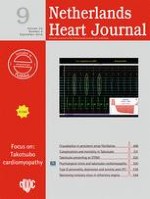 Safety and efficacy of a device to narrow the coronary sinus for the treatment of refractory angina: A single-centre real-world experience
Zeitschrift:
Autoren:

M. Abawi, F. Nijhoff, P.R. Stella, M. Voskuil, D. Benedetto, P.A. Doevendans, P. Agostoni
Abstract
Objective
The coronary sinus Reducer is a recently introduced device to treat patients with severe angina symptoms refractory to optimal medical therapy and not amenable for conventional revascularisation. We aimed to assess the safety and efficacy of the Reducer in a real-world cohort of patients with refractory angina.
Methods
This is a single-centre retrospective registry. Patients with severe angina symptoms, objective evidence of myocardial ischaemia using any adequate non-invasive modality and without options for conventional revascularisation were regarded eligible for Reducer implantation.
Results
Twenty-three patients (74 % male, mean age 70 ± 8 years, 91.3 % previous bypass surgery, 82.6 % previous percutaneous intervention, 47.8 % previous myocardial infarction, 52.2 % diabetes mellitus) underwent Reducer implantation. The safety endpoint (successful implantation of the first device without device-related adverse events) was met in all patients. After a median follow-up of 9 (8–14) months the efficacy (any reduction in Canadian Cardiovascular Society (CCS) class and revascularisation-free survival) was reached in 17 patients (74 %): 8 patients (34.8 %) improved by 1 CCS class, 7 (30.4 %) by 2 CCS classes and 2 (8.7 %) by 3 CCS classes. One patient died 4 months after implantation because of progressive heart failure (not associated with Reducer implantation).
Conclusion
In this single-centre real-world experience, Reducer implantation was safe and demonstrated excellent clinical efficacy in the treatment of refractory angina at mid-term follow-up.