01.12.2018 | Research article | Ausgabe 1/2018 Open Access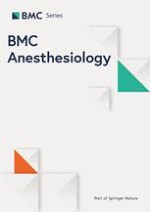 Safety and efficacy of addition of hyaluronidase to a mixture of lidocaine and bupivacaine in scalp nerves block in elective craniotomy operations; comparative study
Zeitschrift:
Autoren:

Ahmed Abdalla Mohamed, Tarek Ahmed Radwan, Mohamed Mahmoud Mohamed, Hatem Abdellatif Mohamed, Mohamed Farid Mohamed Elemady, Safinaz Hassan Osman, Tamer Fayez Safan, Tamer Mohamed Khair, Norhan Abdelaleem Ali, Rania Samir Fahmy, Mohamed Ibrahim Belita, Shady Rady Abdalla, Ahmed Abdelaziz Seleem, Ehab Mohi Atta, Osama Ismail Zaid, Ahmed Shaker Ragab, Ahmed Essam Salem, Badawy Mohamed AlKholy
Abstract
Background
Patients undergoing craniotomy operations are prone to various noxious stimuli, many strategies are commenced to provide state of analgesia, for better control of the stress response and to overcome its undesired effects on the haemodynamics and post-operative pain. Scalp nerves block are considered one of these strategies. This study was conceived to evaluate the effect of addition of hyaluronidase to the local anaesthetic mixture used in the scalp nerves block in patients undergoing elective craniotomy operations.
Methods
64 patients undergoing elective craniotomy operations were enrolled in this prospective randomized, double-blind comparative study. Patients were randomly assigned to two groups. Group LA, patients subjected to scalp nerves block with 15 ml bupivacaine 0.5%, 15 ml lidocaine 2%, in 1:400000 epinephrine. Group H as Group LA with15 IU /ml Hyaluronidase.
Results
Patients in the H group showed lower VAS values for 8 h postoperative, compared to the LA group. The haemodynamic response showed lower values in the H group, compared to the LA group. Those effects were shown in the intraoperative period and for 6 h post-operative. No difference was detected regarding the incidence of complications nor the safety profile.
Conclusion
Our data supports the idea that addition of hyaluronidase to the local anesthetic mixture improves the success rates of the scalp nerves block and its efficacy especially during stressful intraoperative periods and in the early postoperative period. No evident undesirable effects in relation to the addition of hyaluronidase.