03.07.2020 | Original Contributions | Ausgabe 11/2020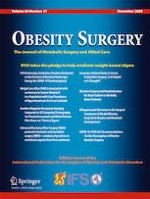 Safety and Efficacy of Bariatric Surgery in Advanced Liver Fibrosis
Zeitschrift:
Autoren:

Aashir Kaul, Vitish Singla, Aditya Baksi, Sandeep Aggarwal, Amit Bhambri, . Shalimar, Rajni Yadav
Wichtige Hinweise
Publisher's Note
Springer Nature remains neutral with regard to jurisdictional claims in published maps and institutional affiliations.
Abstract
Background
There is limited data on the safety and efficacy of metabolic and bariatric (MBS) surgery in patients with advanced liver fibrosis.
Methods
This is a retrospective analysis of data of patients with advanced liver fibrosis undergoing MBS at a tertiary care centre. Weight loss and complications were analysed. Transient elastography and liver biopsy findings 1 year after surgery were compared with baseline.
Results
Twenty-two patients had cirrhosis and 16 had stage 3 fibrosis; all were Child Pugh A. Majority (76%) underwent sleeve gastrectomy. Mean excess BMI loss was 65.8 ± 18.9%. There were no leaks or 30-day mortality. One patient with cirrhosis had late mortality due to liver decompensation. Preoperative and postoperative median LSM were 15.5 kPa (interquartile range IQR = 24.4–11.6) and 10.9 kPa (IQR 19.3–7.6), respectively. Preoperative and postoperative median CAP were 352.5 dB/m (IQR = 372–315.5) and 303 dB/m (IQR 331–269.5), respectively. On follow-up biopsy, nine of twelve patients had improvement in fibrosis, while three had no change. Four out of five patients in the cirrhotic cohort had improvement in fibrosis stage and LSM improved in all of them. Five out of seven patients with stage 3 fibrosis had an improvement in fibrosis stage and none progressed to cirrhosis. LSM improved in three of these five patients.
Conclusion
MBS has the potential to ameliorate advanced liver fibrosis, including cirrhosis. Transient elastography can be used as an effective tool for screening and follow-up of liver disease in patients undergoing MBS.