08.09.2016 | Original Article–Liver, Pancreas, and Biliary Tract | Ausgabe 4/2017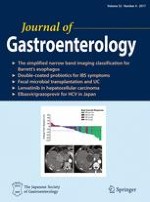 Safety and efficacy of dual therapy with daclatasvir and asunaprevir for older patients with chronic hepatitis C
Zeitschrift:
Autoren:

Reona Morio, Michio Imamura, Yoshiiku Kawakami, Kei Morio, Tomoki Kobayashi, Satoe Yokoyama, Yuki Kimura, Yuko Nagaoki, Tomokazu Kawaoka, Masataka Tsuge, Akira Hiramatsu, C. Nelson Hayes, Hiroshi Aikata, Shoichi Takahashi, Daiki Miki, Hidenori Ochi, Nami Mori, Shintaro Takaki, Keiji Tsuji, Kazuaki Chayama
Abstract
Background
Daclatasvir and asunaprevir combination therapy has shown a high virological response for chronic genotype 1 hepatitis C virus (HCV)-infected patients. However, the safety and efficacy of the therapy for older patients are unknown.
Methods
One hundred seventy patients younger than 75 years and 139 patients aged 75 years or older with genotype 1 HCV infection were treated for 24 weeks with daclatasvir plus asunaprevir. Pretreatment drug-resistance-associated variants at NS5A-L31 and NS5A-Y93 were determined by the Invader assay. Virological response and adverse events according to age were analyzed.
Results
The sustained virological response (SVR) rate for older patients was similar to that for younger patients (97.1 and 92.4 % respectively). In multivariate regression analysis, prior simeprevir treatment (odds ratio 56.6 for absence;
P
< 0.001) was identified as a significant independent predictor of SVR. The SVR rate for patients with pretreatment resistance-associated variants (RAVs) at a low population frequency (less than 25 %) was similar to that for patients with no detectable RAVs. The frequency of adverse events was similar between younger and older patients. All 19 very elderly patients (85 years or older) completed the 24 weeks of treatment and achieved SVR.
Conclusions
Older patients have a virological response and tolerance of daclatasvir plus asunaprevir therapy similar to those of younger patients. Even though RAVs were detected, virological response similar to that for patients with no detectable RAVs may still be expected for patients with RAVs as long as the population frequency is low.