06.04.2020 | Ausgabe 2/2021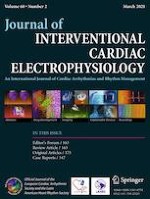 Safety and feasibility of electrical isolation of the superior vena cava in addition to pulmonary vein ablation for paroxysmal atrial fibrillation using the cryoballoon: lessons from a prospective study
Autoren:

Saverio Iacopino, Thiago Guimarães Osório, Pasquale Filannino, Paolo Artale, Juan Sieira, Erwin Ströker, Gezim Bala, Ingrid Overeinder, Ebru Hacioglu, Paul-Adrian Călburean, Gaetano Paparella, Pedro Brugada, Carlo de Asmundis, Gian-Battista Chierchia
Wichtige Hinweise
Saverio Iacopino and Thiago Guimarães Osorio have contributed equally to the manuscript as first authors.
Carlo de Asmundis and Gian-Battista Chierchia have contributed equally as senior authors.
Publisher's note
Springer Nature remains neutral with regard to jurisdictional claims in published maps and institutional affiliations.
Abstract
Purpose
The purpose of this study was to evaluate the feasibility and safety of superior vena cava (SVC) isolation in addition to standard pulmonary vein isolation (PVI) using the second-generation cryoballoon (CB) in patients with paroxysmal atrial fibrillation.
Methods
Thirty-seven consecutive patients that underwent CB ablation for paroxysmal atrial fibrillation (PAF) were prospectively enrolled in our study. After PVI the SVC was mapped for potentials. If the SVC exhibited electrical activity, isolation was achieved performing a single 180-s balloon application.
Results
Regarding SVC isolation, 180-s freeze in the SVC could be completed in 32 (86.4%) patients, and 5 patients had at least 120 s of freezing application (13.5%). Real-time recording during SVC isolation was observed in 30 (81.0%) patients. The mean time to isolation was 36.9 ± 28.7 s and the temperature at isolation was − 33 (− 15 to − 40) °C. No cases developed persistent phrenic nerve palsy (PNP) or any other complication.
Conclusions
Superior vena cava isolation proved to be safe and feasible with the second generation cryoballoon in a prospective series of patients affected by PAF.