01.12.2015 | Research article | Ausgabe 1/2015 Open Access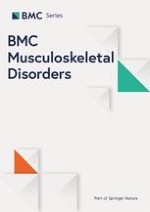 Safety and performance of Hydros and Hydros-TA for knee osteoarthritis: a prospective, multicenter, randomized, double-blind feasibility trial
Zeitschrift:
Autoren:

Robert J Petrella, Pieter J Emans, Julia Alleyne, Frank Dellaert, Dawn P Gill, Marcee Maroney
Wichtige Hinweise
Competing interests
RP, PE, JA, FD and DG declare that they have no competing interests. MM is an employee of the study sponsor, Carbylan Therapeutics.
Authors' contributions
RP contributed to study design, data collection, data analysis and interpretation, and manuscript preparation. PE contributed to the collection of data and preparation of the manuscript. JA contributed to the collection of data and preparation of the manuscript. FD contributed to the collection of data and preparation of the manuscript. DG contributed to data analysis and interpretation and manuscript preparation. MM contributed to study design, study management, data analysis and interpretation, and manuscript preparation. All authors read and approved the final manuscript.
Authors' information
Work should be attributed to: Lawson Health Research Institute, Ontario (Petrella), Women's College Hospital, Toronto (Alleyne), Maastricht University, Maastricht (Emans), Care to Move, St. Niklaas (Dellaert), Curacao (Morales, Booi), St. Anna Hospital, Geldrop (Hoekstra), University of Leuven, Leuven (Bellemans), University of British Columbia, Vancouver (McKenzie).
Abstract
Background
Studies have evaluated the concomitant use of hyaluronan (HA) with steroids, anti-inflammatory drugs and analgesic agents in an attempt to magnify the extent and duration of pain relief due to knee osteoarthritis. To date there has not been an intra-articular combination therapy available for relief of knee osteoarthritis symptoms – one that combines the fast acting onset of symptom relief provided by a corticosteroid with the long-lasting symptom relief provided by HA in a single injection. The objective of this study was to evaluate the safety and preliminary performance of two new HA formulations, Hydros (hyaluronan-based hydrogel suspended in hyaluronan solution) and Hydros-TA (HA plus 10 mg of triamcinolone acetonide [TA]) in subjects with knee osteoarthritis.
Methods
We conducted a Phase 2 prospective, multicenter, randomized, double-blind feasibility trial. Participants (n = 98; mean age 60 years) with knee osteoarthritis (Kellgren-Lawrence grade 2 or 3) were randomized to three treatment groups: Hydros, Hydros-TA, and Synvisc-One® (hylan G-F 20). Participants received one 6 ml intra-articular injection in the treatment knee and were evaluated at 2, 6, 13, and 26 weeks post-treatment. Safety was assessed from adverse events at all study visits. The primary efficacy outcome was the change from baseline on the Western Ontario and McMaster Universities Osteoarthritis Index (WOMAC) A (Pain) score for the treatment knee.
Results
Adverse events were similar across treatment groups with the most common being arthralgia, joint swelling, back pain, and joint stiffness. Arthralgia was reported 5 times with Synvisc-One, 4 with Hydros, and 1 with Hydros-TA. Each group demonstrated a reduction in the WOMAC A (Pain) score over 26 weeks: [least-square mean (standard error)] 30.5 (5.1) mm for Hydros; 34.4 (4.7) mm for Hydros-TA; 28.0 (5.4) mm for Synvisc-One and an observed improvement of 2.5 mm (
p
 = 0.64) and 6.4 mm (
p
 = 0.24) over Synvisc-One for Hydros and Hydros-TA, respectively.
Conclusions
A single injection of Hydros or Hydros-TA was well-tolerated and relieved pain associated with knee osteoarthritis over 26 weeks. Data indicate that Hydros-TA had a more rapid pain relief compared to Hydros alone. A Phase 3 trial is underway to confirm these preliminary results.
Trial registration number