01.12.2012 | Research | Ausgabe 1/2012 Open Access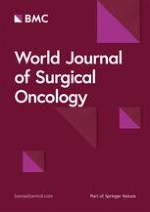 Safety and preliminary results of perioperative chemotherapy and hyperthermic intraperitoneal chemotherapy (HIPEC) for high-risk gastric cancer patients
Zeitschrift:
Autoren:

Wilson L Costa Jr, Felipe J F Coimbra, Héber S C Ribeiro, Alessandro L Diniz, André Luís de Godoy, MariaDirleiFS Begnami, Milton J B Silva, Marcelo F Fanelli, Celso A L Mello
Wichtige Hinweise
Competing interests
All the authors in this study declare no conflict of interest.
Authors' contributions
ES - Wilson L Costa Jr, Héber S C Ribeiro, Alessandro L Diniz, André Luís de Godoy, Milton J B Silva. FG - Felipe J F Coimbra, Maria Dirlei F S Begnami, Marcelo F Fanelli, Celso A L Mello. All authors read and approved the final manuscript.
Abstract
Background
Gastric cancer relapse occurs in about 30% of the patients treated with gastrectomy and D2-lymphadenectomy, mainly as distant or peritoneal metastases. Hyperthermic intraperitoneal chemotherapy (HIPEC) has been associated with an improvement in survival and lower peritoneal recurrence, albeit with increased morbidity. The aim of this study is to report the preliminary results of the association of perioperative chemotherapy, radical surgery and HIPEC in high-risk gastric patients in a single institution.
Methods
Treatment protocol was started in 2007 and included patients younger than 65 years old, with good performance status and gastric adenocarcinoma with serosa involvement and lymph node metastases, located in the body or antrum. Patients should receive three preoperative cycles of DCF (Docetaxel 75 mg/m2, Cisplatin 75 mg/m2 and continuous intravenous infusion of 5-Fluorouracil 750 mg/m2 for 5 days), followed by gastric resection with D2-lymphadenectomy, hyperthermic intraperitoneal chemotherapy with Mytomicin C 34 mg/m2 and three more postoperative cycles of DCF.
Results
Ten patients were included between 2007 and 2011. Their median age was 47 years old and six were male. Nine were staged with cT4 cN + tumors and one as cT3 cN+. Nine patients completed all three preoperative chemotherapy cycles. Eight individuals were treated with a total gastrectomy and the other two had a distal gastrectomy, all having HIPEC. Postoperative morbidity was 50%, with no deaths. Regarding postoperative chemotherapy, only 5 patients completed three cycles. With a median follow-up of 25 months, three relapses were identified and 7 patients remain disease-free, two with more than 4 years of follow-up.
Conclusion
The association of perioperative systemic and intraperitoneal chemotherapy plus radical surgery is a feasible multimodality treatment, with acceptable morbidity. With a longer follow-up and a larger group of patients, we hope to be able to determine if it also influences survival outcomes and patterns of recurrence.
Mini-Abstract
The association of perioperative chemotherapy, gastric resection and D2-lymphadenectomy and hyperthermic intraperitoneal chemotherapy proved to be associated with acceptable morbidity. For survival analysis, a longer follow-up is needed.