01.09.2009 | Original Article | Ausgabe 9/2009 Open Access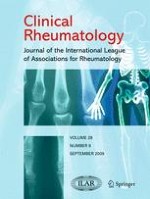 Safety and tolerability of duloxetine in the treatment of patients with fibromyalgia: pooled analysis of data from five clinical trials
Zeitschrift:
Autoren:

Ernest H. S. Choy, Philip J. Mease, Daniel K. Kajdasz, Madelaine M. Wohlreich, Paul Crits-Christoph, Daniel J. Walker, Amy S. Chappell
Abstract
The purpose of this report is to describe the overall safety profile of both short- and longer-term duloxetine treatment of fibromyalgia. Data from four double-blind, randomized, placebo-controlled studies (two with 6-month open-label extension phases) and a 1-year, open-label safety study were included. Safety measures included treatment-emergent adverse events (TEAEs), adverse events leading to discontinuation, serious adverse events (SAEs), clinical laboratory tests, vital signs, and electrocardiograms. The most common TEAEs for short-term treatment with duloxetine were nausea (29.3%), headache (20.0%), dry mouth (18.2%), insomnia (14.5%), fatigue (13.5%), constipation (14.5%), diarrhea (11.6%), and dizziness (11.0%; all
p
 < 0.05 vs. placebo). Most TEAEs emerged early and were mild to moderate in severity. The profile of adverse events in patients enrolled at least 6 months, and for patients in the 1-year study, was similar to that found in the short-term treatment studies, with no new adverse events emerging at a notable rate. About 20% of patients discontinued due to adverse events in the short-term treatment studies and in the 1-year study. SAEs were uncommon, and none occurred at a significantly higher frequency for duloxetine compared with placebo. Mean changes in vital signs and weight were small. Rates of treatment-emergent potentially clinically significant (PCS) vital sign, laboratory, and electrocardiogram measures were low, with only PCS rates of alanine aminotransferase being significantly higher for duloxetine compared with placebo in the placebo-controlled treatment studies. In the 1-year study, four patients (1.1%) had suicide-related behavior. The data provided here summarize short- and long-term safety from five clinical studies in patients treated with duloxetine for fibromyalgia. In addition, postmarketing surveillance continues for adverse events reported with duloxetine in fibromyalgia, as in other indications.