01.12.2015 | Research article | Ausgabe 1/2015 Open Access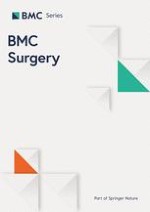 Safety of bioabsorbable implants in vitro
Zeitschrift:
Autoren:

Mehmet Isyar, Ibrahim Yilmaz, Gurdal Nusran, Olcay Guler, Sercan Yalcin, Mahir Mahirogullari
Wichtige Hinweise
Competing interests
All authors declare that there is no potential or actual conflict of interest.
Authors' contrubutions
MI, IY, MM, designed the study. MI, IY, GN contributed to data acquisition. MI, IY, MM, contributed to data analysis and interpretation. OG, SY, GN, drafted the manuscript. MI, MM revised the manuscript critically for important intellectual content. All authors approved the final version of the manuscript.
Abstract
Background
The aim of the present study was to investigate the safety of bioabsorbable plates and screws in humans.
Methods
For this purpose, an implant system based on [poly(lactic-co-glycolic acids)(85:15)] was designed. The system was tested for pH, temperature, and swelling and then its surface morphology was analyzed for surface porosity using environmental electron microscopy. Then, the effects of this bioabsorbable system on the viability and profileration of osteocytes were examined on a molecular level via in vitro experiments. A [poly(lactic-co-glycolic acids)(90:10)] bioabsorbable implant, which is commercially available and used in orthopedic surgery, was used as control group. For the statistical evaluation of the data obtained in the present study, the groups were compared by Tukey HSD test following ANOVA. The significance level was set as
p
 < 0.05.
Results
It was observed that the osteocytes cultivated on the PLGA system designed in the present study included more live cells and allowed more proliferation compared to the control.
Conclusion
One of the criteria in the selection of implants for orthopedic surgery is that a good implant should not need removal and thus a second surgery. In the present study, a bioabsorbable implant was designed considering this criterion. The present study is the first step to prove the safety of this new design by in vitro toxicity and viability experiments.