28.01.2020 | Clinical Investigation | Ausgabe 2/2020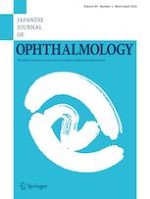 Safety of retrocorneal plaque aspiration for managing fungal keratitis
Zeitschrift:
Autoren:

Koji Kitazawa, Hideki Fukuoka, Tsutomu Inatomi, Yulia Aziza, Shigeru Kinoshita, Chie Sotozono
Wichtige Hinweise
Corresponding author: Koji Kitazawa
Publisher's Note
Springer Nature remains neutral with regard to jurisdictional claims in published maps and institutional affiliations.
Abstract
Purpose
To evaluate the safety of retrocorneal plaque aspiration in patients with fungal keratitis.
Study design
Retrospective study.
Methods
A retrospective case series of fungal keratitis seen at Kyoto Prefectural University of Medicine between November 2013 and September 2018. Patients with retrocorneal plaque who underwent retrocorneal plaque aspiration for the diagnosis and treatment of fungal keratitis were included. The retrocorneal plaques were either aspirated using a tuberculin syringe with a 27-gauge blunt needle or were directly pulled out using a forceps. The anterior chamber was carefully washed out using bimanual irrigation and aspiration (I/A). Diagnosis accuracy and treatment safety were evaluated.
Results
Five eyes of five patients aged 68.4 ± 13.0 years old (range: 45–81 years) were included. Three of the five patients (60%) were positive for fungus obtained from corneal scrapings. Retrocorneal plaque aspiration improved the diagnosis accuracy to five out of five patients (100%), including two cases positive to Fungiflora Y® staining. Three of the five patients (60%) had good response rapidly after retrocorneal plaque aspiration, and two patients received therapeutic keratoplasty. All cases were finally stabilized without severe complications.
Conclusion
Retrocorneal plaque aspiration may be useful for the precise diagnosis of fungal keratitis.