01.12.2017 | Research article | Ausgabe 1/2017 Open Access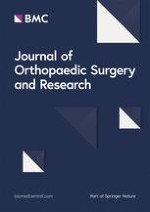 Safety of three different product doses in autologous chondrocyte implantation: results of a prospective, randomised, controlled trial
Zeitschrift:
Autoren:

Christoph Becher, Volker Laute, Stefan Fickert, Wolfgang Zinser, Philipp Niemeyer, Thilo John, Peter Diehl, Thomas Kolombe, Rainer Siebold, Jakob Fay
Abstract
Background
This study was conducted to assess the efficacy and safety of the three dose levels of the three-dimensional autologous chondrocyte implantation product chondrosphere® in the treatment of cartilage defects (4–10 cm2) of knee joints. We hereby report the safety results for a 36-month post-treatment observation period.
Methods
This was a prospective phase II trial with a clinical intervention comprising biopsy for culturing spheroids and their subsequent administration (level of evidence: I). Patients' knee defects were investigated by arthroscopy, and a cartilage biopsy was taken for culturing. Patients were randomised, on a single-blind basis, to treatment at the dose levels 3–7 (low), 10–30 (medium) or 40–70 (high) spheroids per square centimetre. Assessment (adverse events, vital signs, electrocardiography, physical examination, concomitant medication and laboratory values) took place 1.5, 3, 6, 12, 24 and 36 months after chondrocyte implantation.
Results
Seventy-five patients were included and 73 treated. The incidence of adverse events, of patients with adverse events and of patients with treatment-related adverse events showed no relevant difference between the treatment groups. There were no fatal adverse events, no adverse events led to premature withdrawal from the trial and none led to permanent sequelae. Two patients experienced serious adverse events considered related to the study treatment: arthralgia 2–3 years after implantation and chondropathy 1 and 2 years after implantation.
Conclusions
The treatment with chondrosphere® was generally well tolerated. No relationship was detected between any safety criteria and the dose level: Differences between the dose groups in the incidence of any adverse events, and in numbers of patients with treatment-related adverse events, were insubstantial.