01.02.2013 | Original Article | Ausgabe 2/2013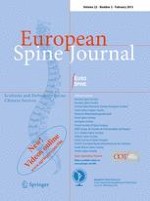 Sagittal alignment of the cervical spine in adolescent idiopathic scoliosis treated by posteromedial translation
Zeitschrift:
Autoren:

Brice Ilharreborde, Christophe Vidal, Wafa Skalli, Keyvan Mazda
Abstract
Purpose
To analyze postoperative changes in the cervical sagittal alignment (CSA) of patients with AIS treated by posteromedial translation.
Methods
49 patients with thoracic AIS underwent posterior arthrodesis with hybrid constructs, combining lumbar pedicle screws and thoracic universal clamps. Posteromedial translation was the main correction technique used. 3D radiological parameters were measured from low-dose biplanar radiographs. CSA was assessed using the C2C6 angle, and the central hip vertical axis (CHVA) was used as a reference axis to evaluate patients' balance.
Results
Preoperatively, 58 % of patients had thoracic hypokyphosis, and 79 % had a kyphotic CSA. Significant correlation was found (
r
= 0.45,
P
= 0.01) between thoracic hypokyphosis and cervical kyphosis. Increase in T4–T12 thoracic kyphosis (average 14.5° ± 10°) was associated with significant decrease in cervical kyphosis in the early postoperative period. The CSA further improved spontaneously during follow-up by 7.6° (
P
< 0.0001). Significant positive correlation (
r
= 0.32,
P
= 0.03) was found between thoracic and cervical improvements. At latest follow-up, 94 % of the patients were normokyphotic and 67 % had a CSA in the physiological range. Sagittal balance of the thoracolumbar spine was not significantly modified postoperatively. However, the procedure significantly changed the position of C2 in regard to the CHVA (C2–CHVA), which reflects headposition (
P
= 0.012). At last follow-up, the patients sagittal imbalance was not significantly different from the preoperative imbalance (
P
= 0.34).
Conclusions
Thoracic hypokyphosis and cervical hypolordosis, observed in AIS, can be improved postoperatively, when the posteromedial translation technique is used for correction. The cervical spine remains adaptable in most patients, but the proportion of patients with physiological cervical lordosis at final follow-up remained low (24.5 %).