01.12.2017 | Study protocol | Ausgabe 1/2017 Open Access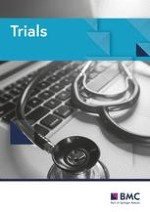 School-based cognitive behavioral interventions for anxious youth: study protocol for a randomized controlled trial
Zeitschrift:
Autoren:

Bente Storm Mowatt Haugland, Solfrid Raknes, Aashild Tellefsen Haaland, Gro Janne Wergeland, Jon Fauskanger Bjaastad, Valborg Baste, Joe Himle, Ron Rapee, Asle Hoffart
Wichtige Hinweise
Electronic supplementary material
The online version of this article (doi:
10.​1186/​s13063-017-1831-9
) contains supplementary material, which is available to authorized users.
Abbreviations
CALIS
Children Anxiety Life Interference Scale
CATS
Children's Automatic Thought Scale
CBT
Cognitive Behavioral Therapy
CEQ
Credibility and Expectancy Questionnaire
CGI
Clinical Global Impression Scale
CGSQ
Caregiver Strain Questionnaire
DASS
Depression, Anxiety and Stress Scale
GSE
General Self-Efficacy Scale
KINDL
Kinder Lebensqualität Fragebogen
PF
Psychological First Aid kit
RCT
Randomized Controlled Trial
READ
Resilience Scale for Adolescents
SCAS
Spence Children's Anxiety Scale
SDQ
Strength and Difficulties Questionnaire
SMFQ
Short Mood and Feeling Questionnaire
YES
Youth Engagement in and between Sessions
Background
Anxiety disorders are among the most prevalent mental health problems in adolescents [
1
,
2
], often having a chronic course, and may represent a considerable burden to individuals, families and society [
3
–
6
]. Youth anxiety is associated with a decreased level of functioning in many areas, e.g., poorer academic performance, social dysfunction, sleep problems, school absenteeism and school drop-out [
7
–
11
]. Youth anxiety furthermore increases the risk for subsequent depression and substance abuse [
12
–
14
]. Thus, early identification and intervention to prevent the onset of youth anxiety disorders is critical to reduce the adverse effects of anxiety on development, social functioning and school performance.
Cognitive behavioral therapy (CBT) is an effective treatment for anxiety disorders in children and adolescents [
15
–
17
]. However, the majority of anxious adolescents do not receive treatment [
18
,
19
], and among those who do, long delays from disorder onset to treatment are common [
20
]. Children and adolescents often experience considerable barriers accessing mental health services (e.g., lack of knowledge of mental health problems among care givers and health workers, referral procedures, long distances and lack of transportation, stigma, costs) [
21
,
22
]. It is therefore of critical importance to develop, implement and evaluate easily accessible, early interventions for anxious youth.
Low-intensity CBT
Attempts to increase access to evidence-based interventions have resulted in a shift in treatment delivery, away from face-to-face high intensity treatments by specialist mental health care professionals, toward low-intensity CBT methods (LI-CBT). No common definition of LI-CBT is found. However, Bennett-Levy et al. [
23
] argue that LI- CBT aims to achieve similar outcomes with
less costly and easier to access interventions
compared to standard CBT. LI-CBT typically includes briefer and/or fewer sessions, may include use of self-help material (e.g., books, internet programs), use of group interventions and treatments delivered by less specialized health care workers [
23
]. This approach aims to make evidence-based treatments more accessible for larger groups suffering from the most prevalent mental health problems, such as mild to moderate levels of anxiety. Despite the increased availability of LI-CBT interventions, few rigorous studies are available that have evaluated the effectiveness of these with young people.
School-based interventions
The present study will add to previous research on school-based early intervention with anxious adolescents by comparing the effect of two CBT interventions of different intensity.
Objectives
The high prevalence and burden of anxiety for young people and the barriers to treatment for these youths make it important to evaluate low-intensity interventions that may be easy to scale up and sustain in non-specialty settings such as schools. The interventions in the present study are considered as LI-CBT because they are easily accessible, group-based and delivered primarily by school nurses. Both interventions focus on key CBT anxiety principles (e.g., psychoeducation, affect regulation, cognitive restructuring and exposure to anxiety-evoking situations). However, the two interventions differ with regard to intensity, i.e., the number and length of sessions. Research investigating the efficacy of LI-CBT for anxious youth is scarce, and it is critical to investigate whether CBT delivered by school nurses can be administered with acceptable fidelity. Moreover, we need to study with whom LI-CBT interventions should be used. In this study we aim to examine the effectiveness of two interventions for youth with anxiety (CHILLED and VAAG
1
) compared to a waitlist control group (WLC) (Fig.
1
: T3, T3WL). Second, we examine whether a brief intervention (VAAG), with reduced hours of direct face-to-face therapist contact, is non-inferior to a longer intervention (CHILLED) with regard to the effect on anxiety symptoms and impairment. Finally, we investigate the long-term effects of the two CBT interventions. The main research assumptions are: (1) school-based CBT is effective for youth anxiety, (2) a brief CBT program is non-inferior to a program of higher intensity and (3) the outcome of both CBT programs will be maintained at 1-year follow-up. Our choice of a non-inferiority trial design is based on the expectation that the brief, less intensive intervention may be sufficient to make changes in adolescents with mild to moderate levels of anxiety. Also in the brief intervention a self-help component has been added that might compensate for an expected loss of effect due to lower face-to-face therapist contact (Table
1
).
Table 1
Overview and content of the two CBT interventions
CHILLED (school version)

VÅG

Session

participants

Duration

content

Session

participants

Duration

content

1

Adolescents

90 min

Psychoeducation. Anxiety, linking thoughts and feelings. Setting goals. Homework assignment

1

Adolescents

45 min

Psychoeducation. Anxiety, linking situations, thoughts and feelings. Setting goals Homework assignment

2 a

Adolescents

90 min

Cognitive restructuring ("realistic thinking") and self-rewards. Homework assignment

2

Adolescents and parents

60 min

Using self-help material to link situations, feelings and thoughts. Cognitive restructuring. Identifying avoidance. Helpful parenting. Homework assignment

3

Adolescents

90 min

Cognitive restructuring. Principles and application of exposure hierarchies (stepladders). Homework assignment

3

Adolescents

90 min

In-session exposure and behavioral experiments. Training plans. Homework assignment

4

Adolescents

90 min

Exposure hierarchy. Regulating anxiety by surfing emotions and worries. Homework assignment

4

Adolescents

90 min

In-session exposure and behavioral experiments. Training plans. Homework assignment

5 a

Adolescents

90 min

Reviewing and revising exposure hierarchies (individual sessions 15-20 min)

6

Adolescents

90 min

Simplifying cognitive restructuring. In-session exposure and behavioral experiments. Homework assignment

Adolescents

5-10 min × 2

Two telephone calls or text-messages, supporting the adolescents to follow the training plan

7

Adolescents

90 min

In-session exposure and behavioral experiments. Homework assignment

8

Adolescents

90 min

In-session exposure and behavioral experiments. Additional skills if needed to facilitate progress (e.g., problem solving, assertiveness). Homework assignment

9

Adolescents

90 min

Troubleshooting exposure. In-session exposure. Homework assignment

10

Adolescents

90 min

Reviewing goals. Positive and negative coping strategies. Future plans. Celebration.

5

Adolescents

45 min

Review of progress so far. Future plans Mutual support
×
Methods
Discussion
Prevention and early intervention approaches to anxiety disorders are important, as young people often experience barriers toward seeking mental health services. The present study will provide information about the efficacy of school-based CBT interventions for anxious youth. If they are found to be effective, these interventions could be subject to large-scale implementation in school health services. The study extends previous studies on early intervention for anxious youth by comparing two programs with different intensity. The brief intervention may be easier to implement in schools as it requires less time and professional resources, but needs first to be found non-inferior to the more intense intervention. In the present study, psychometrically sound measures are applied with multiple informants in a randomized controlled design. The interventions are studied with conditions that closely match real-world implementation. The use of diagnostic interviews and blind evaluators of treatment gains was, however, not feasible with the resources available and would also not be in accordance with the school health services as they are usually being provided.
Trial status
Recruiting. Inclusion of participants started in October 2014. By November 2016, 310 adolescents have been included and randomized into the study. Inclusion will be finished by December 2016 and data collection by March 2018.
Acknowledgements
We want to acknowledge Kjell Morten Stormark for participating in the design of the study, Anja Hoie Rogde and Hilde Overby, who are contributing to the implementation of the interventions, and Pim Cupijers and Birgit Wathke for scientific advice on the study protocol. The Trial Steering Committee (TSC) consists of the principal investigator BMSH and the researchers SR, ATH, GJW, JFB, VB and AH. The TSC has the responsibility for the progress and overseeing the scientific quality of the study. The Trial Management Group (TMG) is responsible for the daily management and coordination of the trial, consisting of the principal investigator BSMH, a research assistant and three research coordinators. The TMG will manage potential spontaneously reported adverse events and other unintended effects of the interventions.
Funding
The Research Council of Norway is the primary funder of this trial, grant no. 229020 (post@forskningsradet.no.). The study receives additional support from the Oslofjord fund, grant no. 245807, Regional Research fund western Norway, grant no. 235707, and the Norwegian Directorate of Health (reference no. 11/751-38 and 14/4285-3). The funders have no role in the implementation, data collection, and analyses of results or decisions to submit articles for publication.
Availability of data and materials
Not applicable.
Authors' contributions
BSMH, SR, GJW, AATH, AH, JH, RMR and JFB conceived and contributed to refinement of the study protocol. BSMH, SR, GJW, AATH, AH and JFB contribute to the implementation of the study. BSMH and AATH are grant holders. VB provide statistical expertise and assist in planning and conducting the statistical analysis. All authors have approved the final manuscript.
Competing interests
SR holds royalties and receives compensation from sales of the Psychological First Aid kit used in the VAAG program. All other authors declare no competing interests.
Consent for publication
Not applicable.
Ethics approval and consent to participate
Ethical approval for the study was received from the Regional Committee for Medical and Health Research Ethics, region West, Norway (no. 2013/2331 REK Vest). Written consent is obtained from caregivers with adolescents assenting. Personal confidentiality is guaranteed. None of the assessments are considered to involve any health risk, and we believe most adolescents will benefit from participation in the interventions. Those who do not benefit will be offered referral to other mental health treatment. The adolescents will not lose their right to get professional help they otherwise would be offered if this project was not conducted. The letter of informed consent emphasizes the participants' right to withdraw from the project at any time, without giving any explanation.
Open Access
This article is distributed under the terms of the Creative Commons Attribution 4.0 International License (
http://​creativecommons.​org/​licenses/​by/​4.​0/​
), which permits unrestricted use, distribution, and reproduction in any medium, provided you give appropriate credit to the original author(s) and the source, provide a link to the Creative Commons license, and indicate if changes were made. The Creative Commons Public Domain Dedication waiver (
http://​creativecommons.​org/​publicdomain/​zero/​1.​0/​
) applies to the data made available in this article, unless otherwise stated.
Footnotes
1
VAAG is Norwegian for both to dare and to venture.