01.12.2014 | Clinical Article - Neurosurgical Techniques | Ausgabe 12/2014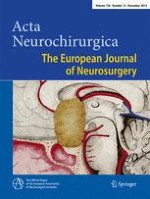 Schwannomas of the upper extremity: analysis of 34 cases
Zeitschrift:
Autoren:

Roberto Adani, Luigi Tarallo, Raffaele Mugnai, Stefano Colopi
Abstract
Background
Schwannomas are the most common benign tumours developing in peripheral nerves. They usually present as a slow-growing mass, sometimes associated with pain and paraesthesia. The aim of this study is to define the correct preoperative diagnosis, to review the surgical treatment employed and to evaluate short- and long-term neurological deficits.
Methods
Thirty-four patients affected by schwannoma in the upper limbs were treated in the period 1995–2011. In 15 patients the tumour was located on the ulnar nerve, in 8 on the median nerve, in 2 on the radial nerve, in 1 on the anterior interosseous nerve, in 1 on the muscle-cutaneous nerve, and in the remaining 7 on the digital nerves. All patients were surgically treated using a microsurgical approach.
Results
The enucleation of the mass was possible without fascicle lesion in 12 cases. In 22 cases resection of the indissociable fascicles was performed. Postoperative paraesthesia was present in 28 out of 34 treated patients; this clinical sign regressed in a mean period of 12 months in 27 patients.
Conclusions
When approaching a palpable mass in the upper limbs, the possibility of a peripheral nerve tumour should always be considered. It is important to look for typical signs of schwannomas, such as a positive Tinel sign and peripheral paraesthesia. Imaging assessment with magnetic resonance imaging (MRI) and ultrasonography enables the determination of where the tumour takes its origin and from which nerve. Microsurgical techniques and know-how are recommended in approaching the resection in order to respect as many nerve fibres as possible.