01.12.2018 | Case report | Ausgabe 1/2018 Open Access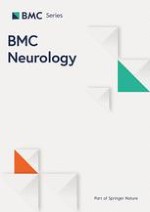 SCL20A2

mutation presenting with acute ischemic stroke: a case report
Zeitschrift:
Autoren:

Xiaoyu Zhang, Gaoting Ma, Zhangning Zhao, Meijia Zhu
Abstract
Background
Primary familial brain calcification (PFBC) is a rare disorder characterized by distinctive bilateral brain calcification and variable clinical presentations. However, cerebrovascular attack was rarely reported in PFBC patients. We here reported a
SLC20A2
mutation patient presenting with acute ischemic stroke.
Case presentation
A 56 years old man was transferred to our hospital because of 6 days of melena and 3 days of somnolence, agitation and mood changes. Computed tomography (CT) scan showed symmetrical calcifications in bilateral basal ganglia, caudate nucleus, thalami, subcortical white matter and cerebellum, which is consistent with PFBC. Brain magnetic resonance imaging (MRI) revealed acute ischemic stroke in bilateral basal ganglia and periventricular regions. Mutational analysis identified a
SLC20A2
gene mutation c.344C > T (p.Thr115Met) in exon 3. One of his daughters had also suffered from brain calcification. MR perfusion imaging revealed hypoperfusion in bilateral basal ganglia, prefrontal and temporal lobe. After treatment, he discharged with a favorable functional outcome but cognitive impairment.
Conclusions
Ischemic stroke can occur in PFBC patients, which may be associated with hypoperfusion and calcification of arteries. And hypoperfusion in frontotemporal lobar may be related with their cognitive impairment.