01.12.2018 | Review | Ausgabe 1/2018 Open Access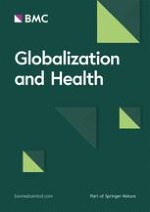 Scoping literature review on the basic health benefit package and its determinant criteria
Zeitschrift:
Autoren:

Ramin Hayati, Peivand Bastani, Mohammad Javad Kabir, Zahra Kavosi, Ghasem Sobhani
Abbreviation
BHBP
Basic Health Benefit Package
UHC
Universal Health Coverage
WHO
World Health Organization
Background
Methods
Data resources
In order to identify relevant studies, a systematic search was carried out between January and April 2016. To assure that no other similar systematic reviews existed, a rapid search was initiated with Cochrane Library Database to find systematic articles related to the research topic. This database could not find any articles related to the study subject. Then, search was implemented in PubMed, Scopus, Science Direct, Web of Science, and ProQuest databases. Given that these databases only include published articles, WHO, World Bank, and Google websites were used to identify the most relevant reports and discussion papers and complete the scoping review. In the next stage, the reference lists of these studies were examined in order to identify the articles that were not included in the previous stage and were in line with the research objectives. Reports and articles approved by experts in this area were also included in the present study. In all search stages, the results were reviewed by another individual for the sake of reassurance.
Search strategy
The search was implemented with relatively common terms using synonymous words and "OR" operator. To achieve more specialty; i.e., reduced non-related articles, the search was implemented with synonymous words and "AND" operator. The combination of words "title, abstract, and keyword" were used to find the related papers. The "control mesh" keyword in PubMed database was also employed to find words related to the article (Table
1
).
Table 1
Search strategy for development of Basic Health Benefit Package
Strategy

#1 AND #2 AND #3

#1

Basic benefit package

OR

Health benefit package

OR

Benefit package

OR

Health basket

OR

Benefit basket

OR

Medical benefit package

OR

Basic Health Service Package

OR

Basic Health Insurance Package

OR

Essential benefit package

OR

Essential health care package

OR

Minimal health care package

OR

Insurance coverage

OR

Universal health coverage

OR

Universal health insurance

#2

Criteria

OR

Criterion

OR

Determinant

#3

Decision making

OR

Rationing

OR

Priority

OR

priority setting

OR

Allocation Resource

OR

MCDM

OR

Multi Criteria Decision Making

OR

Analytic Hierarchy processing (AHP)

OR

Analytic Network processing (ANP)
Inclusion and exclusion criteria
English articles conducted on development of BHBP criteria in 1980 and later were included. However, the articles conducted before 1980, unpublished articles, and those with English abstracts published in languages other than English were excluded. Given that abundant papers were published in this area in many countries, recent articles and reports on development of BHBP criteria were included and the remaining articles published in previous years were excluded in the final stage of screening.
Data extraction
The information required to use and combine the articles with the least credibility point were extracted using a collection and summarization form. This form included corresponding author, research population, research sample, study time, study design, data collection tools, methods, results, limitations, and conclusions. After completing the summary data form for each of the selected papers, the entire forms were synthesized item by item and the results were demonstrated in frequency descriptive tables and graphs. In the extraction stage, one of the authors inserted the data into the form and another author reexamined them. In case of contradictions between the two authors, they were resolved by discussion and exchange of views. If the debates were not settled, the view of the third author was used. These forms were planned and completed by Excel software.
Screening
In the first stage, the entire applied articles and reports of databases and websites were reviewed by two authors (Z K, R H). In the second stage, abstracts of the selected articles and reports were reviewed by the above authors. Subsequently, full texts of the selected articles and reports were thoroughly studied and evaluated. Eventually, the articles and reports with adequate credibility that pointed to BHBP criteria were selected.
Results
In total, 8876 articles were selected after searching the databases. Thereafter, 9 articles and 14 reports were selected for final analysis. Nevertheless, 1200 articles were excluded because of overlap in databases. By examining the remaining 7676 titles, 7551 articles were excluded due to incompatibility with the research topic. The remaining 125 articles were reviewed in terms of abstracts. Accordingly, 49 abstracts were excluded due to lack of adequate compliance with the research purpose. From the remaining 75 articles, 6 had no English texts and 14 were repetitive. Finally, 56 papers were selected to study the full texts. Among these papers, 9 had adequate credibility and explicitly pointed to development of BHBP criteria. In order to complete a comprehensive review, WHO, World Bank, and Google websites were selected to find reports and discussion papers. At this stage, 14 reports were selected for scoping review (Fig.
1
).
×
The synthesis results are presented in Table
2
. As the table depicts, 19 criteria were selected from the scoping review. Due to diversity of criteria in terms of number and nature, they were divided into three distinct categories. These categories included intervention-related, disease-related, and community-related criteria. The largest number of criteria were included in the category of intervention-related criteria. These criteria included cost-effectiveness, effectiveness, budget impact, and cost of interventions. In addition, disease-related criteria included burden of disease, severity of disease, and positive externality. Finally, community-related criteria included equity, access, affordability for the individual or household, and social values. The most widely applied criteria included cost-effectiveness (20), effectiveness (19), budget impact (12), equity (12), and burden of disease (10). On the other hand, access (2), innovation (1), and severity of disease (1) were less applied. In some countries, like the Netherlands, Germany, and England, certain criteria had no clear definitions. It should be noted that the majority of the selected articles and final reports were conducted from 2005 onwards. (Table
2
).
Table 2
Determinant Criteria of Basic Health Benefit Package
Category

Criteria

Frequency [References]

Intervention –related criteria

▪ Cost-effectiveness

▪ Effectiveness

▪ budget impact

▪ Necessity

▪ Safety

▪ Sustainability

▪ Feasibility

▪ Costs of intervention

▪ Comprehensive

▪ Maximizing the improvement of population health status

▪ Scaling up

▪ Innovation

Disease-related criteria

▪ Burden of disease

▪ Externalities

▪ Severity of disease

Community-related criteria

▪ Equity

▪ Affordability

▪ Social values

▪ Access
Discussion
In addition to cost-effectiveness, clinical effectiveness, burden of disease, necessity, and equity, several countries have focused on the impacts of inclusion costs of a service in the BHBP from the perspective of insurance organizations (budget impact) and individuals (affordability). In general, inclusion of a service into the health package involves expenses for a third payer. Therefore, impacts of inclusion costs of a service for financial strength of insurance companies should be taken into account. Furthermore, given that financial protection for households is one of the main objectives of development of BHBP, the exclusion costs of this service should be regarded. However, third payers prefer to select services with lower costs. On the contrary, lack of coverage of interventions leading to catastrophic health expenditure or impoverishment will result in lower effectiveness of BHBP in moving toward UHC.
Limitations
Like other studies, the present research had certain limitations. It only included papers and reports published in English, and gray resources (unpublished reports and proceedings of conferences) were excluded.
Conclusion
It is evident that existence of a logical scientific model for designing health benefits at different levels of the health system could lead to more appropriate allocation and management of available health resources and consideration of needs and priorities as the key criterion in health policymakers' decision making. Prerequisites and requirements for entry into this arena include promoting and strengthening scientific promotion regarding decision-making capacities and evidence-based policymaking, which depends on existence of a credible information system and determination of local priorities based on needs [
32
].
The findings of the present study suggested that although criteria and processes of BHBP development were different depending on economic, social, and cultural conditions and country-specific values, with regard to the frequency of using certain criteria in countries under study, several criteria such as cost-effectiveness, effectiveness, burden of disease, equity, necessity, and budget impacts were recommended. Future studies on assessment of success of countries with different types of criteria for BHBP will help policymakers to choose appropriate criteria.
Acknowledgments
This article was extracted from a Ph.D. dissertation written by Ramin Hayati in the field of Healthcare Management, which was approved and financially supported by Shiraz University of Medical Sciences, Shiraz, Iran (Grant No. 94-7503). The authors hereby express their gratitude to Shiraz University of Medical Sciences and Iran Health Insurance Organization that contributed to the implementation of this study. They are also grateful for Ms. A. Keivanshekouh at the Research Improvement Center of Shiraz University of Medical Sciences for improving the use of English in the manuscript.
Funding
This research was funded by Shiraz University of Medical Sciences, Shiraz, Iran.
Availability of data and materials
Not applicable.
Ethics approval and consent to participate
Not applicable.
Consent for publication
Not applicable.
Competing interests
The authors declare that they have no competing interests.
Publisher's Note
Springer Nature remains neutral with regard to jurisdictional claims in published maps and institutional affiliations.
Open Access
This article is distributed under the terms of the Creative Commons Attribution 4.0 International License (
http://​creativecommons.​org/​licenses/​by/​4.​0/​
), which permits unrestricted use, distribution, and reproduction in any medium, provided you give appropriate credit to the original author(s) and the source, provide a link to the Creative Commons license, and indicate if changes were made. The Creative Commons Public Domain Dedication waiver (
http://​creativecommons.​org/​publicdomain/​zero/​1.​0/​
) applies to the data made available in this article, unless otherwise stated.