Erschienen in: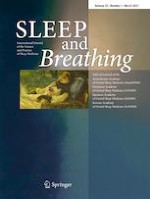 18.04.2020 | Sleep Breathing Physiology and Disorders • Original Article
Sea level nocturnal minimal oxygen saturation can accurately detect the presence of obstructive sleep apnea in a population with high pretest probability
Erschienen in: Sleep and Breathing | Ausgabe 1/2021
Einloggen, um Zugang zu erhalten
Abstract
Purpose
To evaluate whether a predictive model based on nocturnal minimal oxygen saturation (SpO2) alone can accurately detect the presence of obstructive sleep apnea (OSA) in a population with suspected OSA.
Methods
A total of 4297 participants with suspected OSA were enrolled in this study, and laboratory-based polysomnography (PSG) tests were performed at sea level in all subjects. Nocturnal minimal SpO2 was obtained automatically as part of the PSG test. Stratified sampling was used to divide the participants' data into the training set (75%) and the test set (25%). An OSA detection model based on minimal SpO2 alone was created using the training set data and its performance was evaluated using the independent test set data ("hold-out" evaluation). Gender-specific models, and models based on minimal SpO2 in combination with other predictive factors (age, body mass index, waist-to-hip ratio, snoring grade, Epworth Sleepiness Scale score, and comorbidities), were also created and compared in terms of OSA detection performance.
Results
The prevalence of OSA was 85.6% in our study population. The models including multiple predictors, and the gender-specific models, failed to outperform the model based solely on minimal SpO
2
, which showed good predictive performance (
C
statistic, 0.922) having an overall accuracy rate of 0.86, sensitivity of 0.87, specificity of 0.84, positive predictive value of 0.97, and positive likelihood ratio of 5.34. In addition, the model based on minimal SpO
2
alone could also accurately predict the presence of moderate-to-severe OSA and severe OSA, with
C
statistics of 0.914 and 0.900, respectively.
Conclusions
A predictive model based on nocturnal minimal SpO2 alone may be an alternative option to detect the presence of OSA in a high-risk population when standard diagnostic tests are unavailable.