26.10.2017 | Original Paper | Ausgabe 2/2018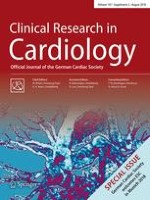 Second generation cryoballoon ablation for persistent atrial fibrillation: an updated meta-analysis
Zeitschrift:
Autoren:

Hazem Omran, Klaus-Jürgen Gutleben, Stephan Molatta, Thomas Fischbach, Birgit Wellmann, Dieter Horstkotte, Britta Körber, Georg Nölker
Wichtige Hinweise
Electronic supplementary material
The online version of this article (doi:
10.​1007/​s00392-017-1171-5
) contains supplementary material, which is available to authorized users.
Abstract
Background
Catheter ablation is an established treatment option for patients with symptomatic atrial fibrillation (AF). The cornerstone of AF ablation is pulmonary vein isolation (PVI). The second-generation cryoballoon (2G-CB) has shown non-inferiority to radiofrequency (RF) ablation in paroxysmal AF in several trials. Growing evidence suggests that 2G-CB is also effective in patients with persistent AF (perAF). The aim of this study was to summarize and analyze available data on safety and mid-term (≥ 12 months) efficacy of PVI using 2G-CB in patients with perAF.
Methods
We did a search in PubMed, Web of Science, Cochrane Library, and clinicaltrials.gov in December 2016 for studies of 2G-CB ablation for perAF. Studies reporting clinical success rates at a follow-up (FU) of ≥ 12 months were included. Success was defined as freedom from any atrial arrhythmia lasting > 30 s after an initial blanking period of 3 months. Acute success and complication rates were also assessed. Data were analyzed applying random-effects model.
Results
A total of 917 patients from 11 studies meeting study inclusion criteria were analyzed. After a mean FU of 16.7 ± 3.0 months, 68.9% were free from recurrences [95% confidence interval (CI) 63.4–74.7%]. Overall acute success rate was 99.7% (95% CI 99.2–100%). Complications occurred in 5.5% (95% CI 2.4–9.6%). Vascular access complications were the most frequent 3.3% (95% CI 1.5–5.6%). The rate of phrenic nerve palsy/injury was 2.09% (95% CI 0.8–3.9%). No death, stroke or myocardial infarction was reported.
Conclusion
The 2G-CB seems to be safe and effective in the treatment of perAF in the mid-term.