24.09.2020 | Review | Ausgabe 11/2020 Open Access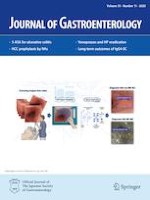 Secondary prevention for hepatocellular carcinoma in patients with chronic hepatitis B: are all the nucleos(t)ide analogues the same?
Zeitschrift:
Autoren:

Terry Cheuk-Fung Yip, Jimmy Che-To Lai, Grace Lai-Hung Wong
Wichtige Hinweise
Publisher's Note
Springer Nature remains neutral with regard to jurisdictional claims in published maps and institutional affiliations.
Abstract
Reducing the incidence of hepatocellular carcinoma (HCC) in patients with chronic hepatitis B (CHB) is the key ultimate goal set in essentially all treatment guidelines. There has been solid evidence supporting the relationship between serum hepatitis B virus (HBV) DNA level and risk of HCC. Antiviral treatment with oral nucleos(t)ide analogues (NAs) leads to sustained viral suppression and hence is often adopted as the secondary prevention for HCC in CHB patients. The first-generation NA, lamivudine, reduced the risk of HCC at 3 years compared to placebo; yet, its high emergence of antiviral resistance has made it no longer recommended in the international guidelines. Recent heated debate is about the two current first-line NAs—entecavir and tenofovir disoproxil fumarate (TDF)—Are they just as good to reduce HCC risk in CHB patients? A handful of cohort studies show two different kinds of observations—TDF is better than entecavir in lowering HCC risk, or these two NAs have led to similarly low risk of HCC. Tenofovir alafenamide (TAF), a modified version of TDF higher rate of ALT normalization, would be another potent nucleotide analogue is the treatment of choice for secondary prevention for HCC.