01.12.2014 | Research article | Ausgabe 1/2014 Open Access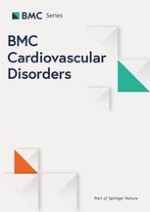 Secondhand smoke exposure toxicity accelerates age-related cardiac disease in old hamsters
Zeitschrift:
Autoren:

Jia-Ping Wu, Cheng-Hong Hsieh, Tsung-Jung Ho, Wei-Wen Kuo, Yu-Lan Yeh, Chien-Chung Lin, Chia-Hua Kuo, Chih-Yang Huang
Wichtige Hinweise
Electronic supplementary material
The online version of this article (doi:
10.​1186/​1471-2261-14-195
) contains supplementary material, which is available to authorized users.
Competing interests
The authors declare that they have no competing interests.
Authors' contributions
JP drafted the manuscript and performed the main experiment. CH, TJ, WW, YL, CC, CH, CH and CY participated in the design of this study and data analysis. CH, TJ, and WW performed some parts of Western Blot. YL and CC performed some parts of H&E staining, CH performed some parts of Masson's trichrome staining. TJ performed echocardiography analysis. CH performed some parts of immunohistochemistry analysis. CH and CY conceived the study, participated in this design and coordination and helped draft the manuscript. All authors read and approved the final manuscript.
Abstract
Background
Aging is associated with physiological or pathological left ventricular hypertrophy (LVH) cardiac changes. Secondhand smoke (SHS) exposure is associated with pathological LVH. The action mechanism in cardiac concentric hypertrophy from SHS exposure is understood, but the transition contributed from SHS exposure is not. To determine whether exposure to SHS has an impact on age-induced LVH we examined young and old hamsters that underwent SHS exposure in a chamber for 30 mins.
Methods
Morphological and histological studies were then conducted using hematoxylin and eosin (H&E) and Masson's trichrome staining. Echocardiographic analysis was used to determine left ventricular wall thickness and function. LVH related protein expression levels were detected by western blot analysis.
Results
The results showed that both young and aged hamsters exposed to SHS exhibited increased heart weights and left ventricular weights, left ventricular posterior wall thickness and intraventricular septum systolic and diastolic pressure also increased. However, left ventricular function systolic and diastolic pressure deteriorated. H&E and Masson's trichrome staining results showed LV papillary muscles were ruptured, resulting in lower cardiac function at the myocardial level. LV muscle fiber arrangement was disordered and collagen accumulation occurred. Concentric LVH related protein molecular markers increased only in young hamsters exposed to SHS. However, this declined with hamster age. By contrast, eccentric LVH related proteins increased in aging hamsters exposed the SHS. Pro-inflammatory proteins, IL-6, TNF-α, JAK1, STAT3, and SIRTI expression increased in aging hamsters exposed to SHS.
Conclusions
We suggest that SHS exposure induces a pro-inflammatory response that results in concentric transition to aging eccentric LVH.