01.12.2012 | Technical innovations | Ausgabe 1/2012 Open Access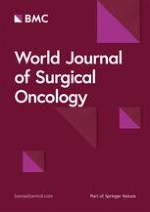 Secure hemostasis in transhiatal esophagectomy for esophageal cancer with gauze packing
Zeitschrift:
Autoren:

Noriyuki Hirahara, Takeshi Matsubara, Yoko Hari, Yusuke Fujii, Hitomi Wake, Yoshitsugu Tajima
Wichtige Hinweise
Electronic supplementary material
The online version of this article (doi:
10.​1186/​1477-7819-10-276
) contains supplementary material, which is available to authorized users.
Competing interests
The authors declare that they have no competing interests.
Authors' contributions
NH was the lead author and surgeon for all of the patients. TM and YH gathered information and contributed to the writing of the paper. YF and HW contributed patients and information on the patients. TM and YH were the co-surgeons on the cases. YT reviewed the paper and the surgical technique. All authors read and approved the final manuscript.
Abstract
Background
Transhiatal esophagectomy for esophageal cancer implies blind manipulation of the intrathoracic esophagus. We report a secure hemostatic method with gauze packing in transhiatal esophagectomy.
Methods
The gauze-packing technique is utilized for hemostasis just after removal of the thoracic esophagus during transhiatal esophagectomy. After confirming cancer-free margins, the abdominal esophagus and cervical esophagus are transected. A vein stripper is inserted into the oral-side stump of the esophagus and led to exit from the abdominal-side stump of the esophagus. The vein stripper and the oral stump of the esophagus are affixed by silk thread. A polyester tape is then affixed to the vein stripper, as the polyester tape is left in the posterior mediastinum after removal of the esophagus toward the abdominal side. The polyester tape on the cervical side is ligated with gauze and the polyester tape is removed toward the abdominal side. The oral stump of gauze and new additional gauze are affixed. As the first gauze is pulled out from the abdominal side, the second gauze gets drawn from the cervical wound into the mediastinum. The posterior mediastinum is finally packed with gauze and possible bleeding at this site undergoes a complete astriction. The status of hemostasis with the gauze packing is checked by an observation of color and bloodstain on the gauze.
Results
Between January 2005 and February 2012, 13 consecutive patients with esophageal cancer underwent a transhiatal esophagectomy with the gauze-packing hemostatic technique. Hemostasis at the posterior mediastinum was performed successfully and quickly in all cases with this method, requiring up to four pieces of gauze for a complete hemostasis. Median required time for hemostasis was 1219 (range 1896 to 1293) seconds and estimated blood loss was 20.4 (range 15 to 25) ml during gauze packing.
Conclusions
Our technique could minimize bleeding after the removal of the thoracic esophagus. The gauze-packing method is a simple and easy technique for secure hemostasis when performing a transhiatal esophagectomy.