28.07.2017 | Review | Ausgabe 11/2017 Open Access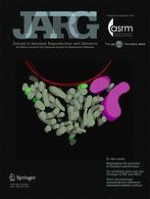 Selection of mitochondria in female germline cells: is Balbiani body implicated in this process?
Zeitschrift:
Autoren:

Szczepan M. Bilinski, Malgorzata Kloc, Waclaw Tworzydlo
Abstract
Early oocytes of nearly all animal species contain a transient organelle assemblage termed the Balbiani body. Structure and composition of this assemblage may vary even between closely related species. Despite this variability, the Balbiani body always comprises of numerous tightly clustered mitochondria and accumulations of nuage material. It has been suggested that the Balbiani body is an evolutionarily ancestral structure, which plays a role in various processes such as the localization of organelles and macromolecules to the germ plasm, lipidogenesis, as well as the selection/elimination of dysfunctional mitochondria from female germline cells. We suggest that the selection/elimination of mitochondria is a primary and evolutionarily ancestral function of Balbiani body, and that the other functions are secondary, evolutionarily derived additions. We propose a simple model explaining the role of the Balbiani body in the selection of mitochondria, i.e., in the mitochondrial DNA (mtDNA) bottleneck phenomenon.