19.05.2016 | ORIGINAL ARTICLE | Ausgabe 4/2016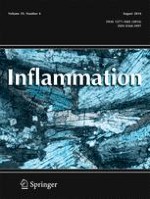 Selenium Pretreatment for Mitigation of Ischemia/Reperfusion Injury in Cardiovascular Surgery: Influence on Acute Organ Damage and Inflammatory Response
Zeitschrift:
Autoren:

Holger Steinbrenner, Esra Bilgic, Antonio Pinto, Melanie Engels, Lena Wollschläger, Laura Döhrn, Kristine Kellermann, Udo Boeken, Payam Akhyari, Artur Lichtenberg
Wichtige Hinweise
Electronic supplementary material
The online version of this article (doi:
10.​1007/​s10753-016-0368-5
) contains supplementary material, which is available to authorized users.
Drs. Akhyari and Lichtenberg are co-senior authors of this work.
Holger Steinbrenner and Esra Bilgic contributed equally to this work.
ABSTRACT
Ischemia/reperfusion injury (IRI) contributes to morbidity and mortality after cardiovascular surgery requiring cardiopulmonary bypass (CPB) and deep hypothermic circulatory arrest (DHCA). Multi-organ damage is associated with substantial decreases of blood selenium (Se) levels in patients undergoing cardiac surgery with CPB. We compared the influence of a dietary surplus of Se and pretreatment with ebselen, a mimic of the selenoenzyme glutathione peroxidase, on IRI-induced tissue damage and inflammation. Male Wistar rats were fed either a Se-adequate diet containing 0.3 ppm Se or supplemented with 1 ppm Se (as sodium selenite) for 5 weeks. Two other groups of Se-adequate rats received intraperitoneal injection of ebselen (30 mg/kg) or DMSO (solvent control) before surgery. The animals were connected to a heart-lung-machine and underwent 45 min of global ischemia during circulatory arrest at 16 °C, followed by re-warming and reperfusion. Selenite and ebselen suppressed IRI-induced leukocytosis and the increase in plasma levels of tissue damage markers (AST, ALT, LDH, troponin) during surgery but did not prevent the induction of proinflammatory cytokines (IL-6, TNF-α). Both Se compounds affected phosphorylation and expression of proteins related to stress response and inflammation: Ebselen increased phosphorylation of STAT3 transcription factor in the heart and decreased phosphorylation of ERK1/2 MAP kinases in the lungs. Selenite decreased ERK1/2 phosphorylation and HSP-70 expression in the heart. Pretreatment with selenite or ebselen protected against acute IRI-induced tissue damage during CPB and DHCA. Potential implications of their different actions with regard to molecular stress markers on the recovery after surgery represent promising targets for further investigation.