01.12.2014 | Research article | Ausgabe 1/2014 Open Access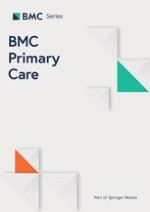 Self-rated health in multimorbid older general practice patients: a cross-sectional study in Germany
Zeitschrift:
Autoren:

Anna Nützel, Anne Dahlhaus, Angela Fuchs, Jochen Gensichen, Hans-Helmut König, Steffi Riedel-Heller, Wolfgang Maier, Ingmar Schäfer, Gerhard Schön, Siegfried Weyerer, Birgitt Wiese, Martin Scherer, Hendrik van den Bussche, Horst Bickel
Wichtige Hinweise
Competing interests
The authors declare that they have no competing interests.
Authors' contributions
AN and HB performed the statistical analyses and interpretation of the data, and drafted the manuscript. IS, BW, MS and HvB conceived and designed the study. GS and BW prepared the data for analysis. AD, AF, JG, HHK, SRH, WM and SW participated in study design and implementation. All authors read and approved the final manuscript.
Abstract
Background
With increasing life expectancy the number of people affected by multimorbidity rises. Knowledge of factors associated with health-related quality of life in multimorbid people is scarce. We aimed to identify the factors that are associated with self-rated health (SRH) in aged multimorbid primary care patients.
Methods
Cross-sectional study with 3,189 multimorbid primary care patients aged from 65 to 85 years recruited in 158 general practices in 8 study centers in Germany. Information about morbidity, risk factors, resources, functional status and socio-economic data were collected in face-to-face interviews. Factors associated with SRH were identified by multivariable regression analyses.
Results
Depression, somatization, pain, limitations of instrumental activities (iADL), age, distress and Body Mass Index (BMI) were inversely related with SRH. Higher levels of physical activity, income and self-efficacy expectation had a positive association with SRH. The only chronic diseases remaining in the final model were Parkinson's disease and neuropathies. The final model accounted for 35% variance of SRH. Separate analyses for men and women detected some similarities; however, gender specific variation existed for several factors.
Conclusion
In multimorbid patients symptoms and consequences of diseases such as pain and activity limitations, as well as depression, seem to be far stronger associated with SRH than the diseases themselves. High income and self-efficacy expectation are independently associated with better SRH and high BMI and age with low SRH.