13.02.2019 | Sleep Breathing Physiology and Disorders • Original Article | Ausgabe 3/2019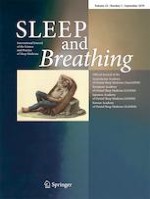 Self-reported snoring and incident cardiovascular disease events: results from the Jackson Heart Study
Zeitschrift:
Autoren:

David M. Rosen, Vaishnavi Kundel, Michael Rueschman, Robert Kaplan, Na Guo, James G. Wilson, Yuan-I Min, Susan Redline, Neomi Shah
Wichtige Hinweise
David M. Rosen and Vaishnavi Kundel are co-first authors, and contributed equally to this work.
Institution Where Work Was Performed: Manuscript Preparation at Icahn School of Medicine at Mount Sinai
Publisher's note
Springer Nature remains neutral with regard to jurisdictional claims in published maps and institutional affiliations.
Abstract
Purpose
Evidence suggests that snoring is associated with increased risk for cardiovascular disease (CVD) events such as myocardial infarction and stroke. Limited data exists pertaining to this association among African Americans. We therefore examined the association between self-reported habitual snoring and incident CVD in the Jackson Heart Study (JHS), a population-based cohort study of African Americans.
Methods
Self-reported data on snoring and risk factors for CVD were collected at baseline (2000–2004). Participants were followed prospectively for the development of incident CVD. Habitual snoring was defined as
present
if the participants reported it as "often" or "almost always" or
absent
if reported as "sometimes," "never," or "seldom." A CVD event included stroke, myocardial infarction, coronary revascularization procedure, or fatal CHD event. Cox proportional hazards models assessed the independent association between self-reported habitual snoring and incident CVD event adjusting for multiple covariates, including age, sex, hypertension, body mass index, diabetes, hypercholesterolemia, and smoking status.
Results
The snorer group consisted of 787 participants (mean age 52.1 years) and the nonsnorer group consisted of 3708 participants (mean age 54.9 years). Frequency of incident CVD events in the snorer group was not significantly different from the nonsnorer group. The fully adjusted hazard ratio for a CVD event in the snorer group was 1.01 (95% confidence interval [0.69, 1.47],
p
value of 0.96).
Conclusion
In conclusion, self-reported habitual snoring was not associated with incident CVD among this large African American cohort. Future studies providing objective data on snoring and sleep apnea may provide more information on the snoring-CVD association among African Americans.
Trial registration
Identification Number: NCT00005485