01.12.2018 | Protocol | Ausgabe 1/2018 Open Access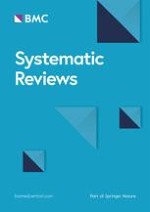 Sensitivity and specificity of using trial-of-antibiotics versus sputum mycobacteriology for diagnosis of tuberculosis: protocol for a systematic literature review
Zeitschrift:
Autoren:

Titus H. Divala, Katherine L. Fielding, Marriott Nliwasa, Derek J. Sloan, Ankur Gupta-Wright, Elizabeth L. Corbett
Wichtige Hinweise
Electronic supplementary material
Abstract
Background
Suboptimal diagnostics for pulmonary tuberculosis (PTB) drives use of 'trial-of-antibiotics (non-tuberculosis)' in an attempt to distinguish PTB patients from those with bacterial lower respiratory tract infection (LRTI). The underlying assumption—that patients with LRTI will report 'response' to broad-spectrum antibiotics, while those with PTB will not—has minimal evidence base for such a widely used intervention. Numerous potential causes of misclassification include bacterial super-infection of active PTB, placebo effect, and antimicrobial resistance (AMR). The main aim of this systematic review is to collate available evidence on the performance of trial-of-antibiotics as a diagnostic test and to explore the timing, interpretation, and decision-making process.
Methods
We will search MEDLINE, Embase, and Global Health using the Ovid platform for published studies that recruited adults being investigated for PTB, performed trial-of-antibiotics accompanied by mycobacteriological investigations, and reported both diagnostic test outcomes at the individual level. Following article selection, two authors will independently review titles and abstracts against eligibility criteria then perform full-text screening and extraction into a spreadsheet. We will conduct a risk of bias assessment at the level of the study using QUADAS-2 (University of Bristol) tool that assesses diagnostic evaluation work in four domains: (1) patient selection, (2) the index test, (3) the reference standard, and (4) patient flow and timing of tests. We will perform a narrative synthesis and, where possible, meta-analyses addressing our primary outcome. Our protocol adheres to the standards recommended by the PRISMA-P.
Discussion
Pooling all available evidence on the accuracy, approach, and interpretation of results of trial-of-antibiotics in the context of PTB diagnosis will meet an urgent need, considering the widespread utilisation and potential for antimicrobial resistance. We therefore believe that our findings will have impact on policy and that they will inform the design of future detailed investigations into this important diagnostic approach.
Systematic review registration