01.12.2017 | Research article | Ausgabe 1/2017 Open Access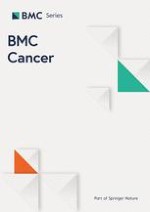 Sensitivity of osteosarcoma cells to HDAC inhibitor AR-42 mediated apoptosis
Zeitschrift:
Autoren:

Sridhar Murahari, Aimee L. Jalkanen, Samuel K. Kulp, Ching-Shih Chen, Jaime F. Modiano, Cheryl A. London, William C. Kisseberth
Abbreviations
ELISA
Enzyme-linked immunosorbent assay
FACS
Fluorescence activated cell sorter
FDA
Food and Drug Administration
GSK3
Glycogen synthase kinase-3
HAT
Histone acetyl transferase
IAP
Inhibitor of apoptosis protein
IC50
Inhibitory concentration 50%
MTT
3-(4,5-dimethylthiazol-2-yl)-2,5-diphenyltetrazolium bromide
p70S6K
p70 ribosomal protein S6 kinase
SAHA
Suberoylanilide hydroxamic acid
Background
Methods
Reagents
The HDAC inhibitors AR-42 and SAHA were synthesized as described [
10
]
.
Stock solutions AR-42 and SAHA were prepared in DMSO and diluted in the indicated culture medium for treatment of cells in vitro. Antibodies against Akt, pAkt-Ser473, phosphor-glycogen synthase kinase-3 (GSK3)β, caspase-3, Bcl-xl, α-tubulin, cyclin D1, phosphor-p70 ribosomal protein S6 kinase (p70S6K), p-mTOR and PTEN were purchased from Cell Signaling Technologies (Beverly, MA). Additional polyclonal rabbit antibodies used were acetylated histones H3 (N-terminus) and H4 (Lys5/8/12/16) (Upstate Biotechnology, Inc., Lake Placid, NY), β-actin (Sigma, St. Louis, MO), and survivin (Novus Biologicals, Littleton, CO).
Cell lines and cell culture
Canine OS cell lines, OSCA-2, −7.2, −16, −36, −39.1, −40, −50, were previously established in the laboratory of one of the authors (JFM). Normal canine osteoblasts were obtained from Cell Applications, Inc. (San Diego, CA). The canine OS cell line D17 and human OS cell lines SAOS-2, SJSA and U2OS were obtained from American Type Culture Collection (Manassas, VA). Cells were cultured in Dulbecco's Modified Eagle Medium (DMEM) (OSCA-2, −16, −36, −39.1, −40, −50), RPMI-1640 (D17, OSCA-7.2), or McCoy's medium (Gibco, Invitrogen, Carlsbad, CA) (SJSA, SAOS-2 and U2OS) supplemented with 10% fetal bovine serum (FBS, HyClone, Gemini, West Sacramento, CA) and antibiotics (100 U/ml penicillin, 0.1 mg/ml streptomycin) (Gibco) in a humidified incubator containing 5% CO 2 at 37 °C.
Cell viability assays
The effect of AR-42 and SAHA on the viability of canine and human tumor cells was assessed by the 3-(4,5-dimethylthiazol-2-yl)-2,5-diphenyltetrazolium bromide (MTT) assay (Sigma) as described previously [
18
]. Briefly, cells were seeded in 96-well plates at ~2500 cells per well in medium supplemented with 10% FBS. After 24 h, the cells were treated with varying concentrations (1–10 μM) of AR-42 and SAHA, dissolved in DMSO (final DMSO concentration ≤ 0.1%) for 24, 48 and 72 h. Controls were treated with DMSO vehicle alone at a concentration equal to that of drug-treated cells. After drug treatment, 22 μl of MTT reagent (5 mg/ml) was added to each well and the cells were incubated for up to 2 to 4 h at 37 °C. The absorbance was read on a plate reader (UV Spectromax M2 plate reader, Molecular Devices, Sunnyvale, CA) at 570 nm. The concentration of AR-42 and SAHA that inhibited cell viability by 50% (IC
50
) was determined using CompuSyn software (v. 3.0.1, ComboSyn, Inc., Paramus, NJ) and the values expressed as mean ± SD. All treatments were evaluated in triplicate in at least three independent experiments.
Cell cycle analysis
Cells were exposed to AR-42 or SAHA at 1 and 10 μM concentrations for 48 h, washed with phosphate-buffered saline (PBS), resuspended in 500 μl of cold PBS, and then added drop wise to 70% ethanol and stored at 4 °C overnight. Cells were then washed twice in PBS and suspended in 500 μl of PBS containing 10 ug/ml of RNase A (LC, Laboratories, Woburn, CA) and 50 ug/ml of propidium iodide (Sigma) and assessed by BD FACS Calibur (Becton-Dickinson, San Jose, CA). Data were analyzed by Cell Quest flow software (Becton-Dickinson). A maximum of 10,000 cells within the gated region were analyzed for each treated and untreated sample. Experiments were replicated three times.
Cell death detection ELISA
Drug-induced apoptotic cell death was determined by detection of DNA fragmentation using the Cell Death Detection ELISA kit (Roche, Indianapolis, IN). The ELISA was performed according to the manufacturer's protocol and is based on the quantitative determination of cytoplasmic histone-associated DNA fragments in the form of mononucleosomes or oligonucleosomes generated after induced apoptotic death. Briefly, 3 × 10 5 cells were cultured in RPMI/McCoy's medium supplemented with 10% FBS in 100 mm tissue culture dishes for 24 h before treatment. Cells were treated with varying concentrations of AR-42 and SAHA (1–10 μM) and DMSO vehicle as control for 48 h. Approximately 100,000 cells were used per assay. The absorbance was read on a plate reader (UV Spectromax M2 plate reader, Molecular Devices) at a wavelength of 405–490 nm.
Measurement of caspase 3/7 activity
Activation of the caspase 3/7 pathway following the drug treatment was measured by Sensolyte™ Homogeneous AMC Caspase-3/7 Assay kit (AnaSpec, San Jose, CA) following the manufacturer's protocol. Briefly, 1x10 5 cells per well were seeded in six-well plates and treated for 48 h at concentrations of 1 and 10 μM AR-42 or SAHA. Each treatment was performed in triplicate. After treatment for the indicated time, cells were lysed with lysis buffer to a final volume of 150 μl/well and 50 μl of caspase 3/7 substrate reagent was then added to the wells and incubated on a plate shaker for 30–60 s at 100–200 rpm. Fluorescence were read on a plate reader (UV Spectromax M2 plate reader, Molecular Devices) at an Ex/Em = 354 nm/442 nm and recorded after 1 h.
Immunoblotting
For immunoblotting analysis, drug-treated (AR-42 and SAHA at 1 and 10 μM) and vehicle (DMSO)-treated cells were collected 48 h after treatment, washed in PBS, and lysed in M-PER protein extraction reagent (Pierce Biotechnology, Rockford, IL) unless otherwise stated. After centrifugation at 14,000 rpm for 15 min equal amounts of total protein from the cell lysates were resolved on 4–20% denaturing polyacrylamide gels (Invitrogen) and transferred to nitrocellulose membranes (PALL-Germany). After blocking with TBST containing 5% non-fat dry milk (Blotto, BioRad Laboratories, Hercules, CA) for 1 h, the membranes were incubated with indicated primary antibodies at 4 °C overnight and then washed three times with TBST. The membranes were probed with horseradish peroxidase conjugated secondary antibodies (Jackson Immune Research Laboratories, West Grove, PA) for 1 h at room temperature and washed three times with TBST. The blots were then developed with Western Lightning reagents (Perkin-Elmer, Waltham, MA).
Drug combination studies
The effect of combining AR-42 with doxorubicin on cancer cell viability was evaluated in U2OS and D17 cells using the fixed-ratio method. Cells were treated with AR-42 and doxorubicin individually and in combination. For combination treatment of U2OS cells, drugs were combined at a concentration ratio of 3.3:1 (AR42:doxorubicin) and 2-fold serial dilutions were performed to generate a series of solutions containing AR-42 and doxorubicin at concentrations ranging from 0.125 to 8 μM and 0.0375 to 2.4 μM, respectively. For treatment of D17 cells, the concentrations of AR-42 in the combination ranged from 0.625 to 40 μM, and that of doxorubicin ranged from 0.04125 to 2.64 μM to yield a fixed concentration ratio of 15.2:1 (AR-42:doxorubicin). After treatments, cell viability was determined by MTT assays as described above. Dose-effect data for individual drugs and their combinations were analyzed for synergistic effects using the median-effect method of Chou and Talalay [
19
] using CompuSyn software (v. 3.0.1, ComboSyn, Inc.). Combination index (CI) values were calculated to characterize the nature of the drug interaction as defined by Chou and Talalay: CI = 1, additivity; CI < 1, synergism; CI > 1, antagonism. The dose reduction index (DRI) is a measure of the extent to which the dose of a drug in a synergistic combination is reduced, compared with the dose of the same drug alone, to achieve a given effect level. The DRI value for each drug was also calculated.
Statistical analysis
Cell viability was measured in triplicate and averaged to achieve a single value for each combination of drug treatment, concentration, and cell line. The results were plotted over the three measurement periods and visually inspected (Fig.
1c
). The cell viability at 72 h was compared by drug treatment assignment, AR-42 (
n
 = 24) versus SAHA (
n
 = 24). Samples were tested for normality (D 'Agostino-Pearson test) and equality of variance (Levene's test). Inasmuch as samples were not normally distributed, a Mann-Whitney test for independent samples was performed to compare cell viability by drug treatment group. Analyses were performed using commercial software (MedCalc Statistical Software version 16.8, MedCalc Software bvba, Ostend, Belgium). Statistical significance was set at
P
 < 0.05.
×
Results
Discussion
Conclusions
These data demonstrate that HDAC inhibitors induced apoptosis and sensitized both human and canine OS cells to cytotoxic chemotherapy. AR-42 was more potent than SAHA as it reduced the viability of canine and human OS cells at lower concentrations. Furthermore, AR-42 enhanced the cytotoxic effects of doxorubicin, a drug that is currently used for treatment of OS clinically. These synergistic interactions can be further explored for the treatment of OS in humans. These results further validate the comparative oncology approach to drug development for OS [
40
].
Acknowledgements
The authors thank Marc Hardman and Tim Vojt for assistance with the figures.
Funding
This work was supported by The Ohio State University College of Veterinary Medicine Canine Grants funds.
Availability of data and materials
The datasets supporting the conclusions of this article are included within the article.
Authors' contributions
SM performed the experiments and drafted the manuscript. AJ performed viability assays. SM and SKK designed and analyzed the combination experiment. JFM established and provided canine cell lines. WCK, CAL, and SM conceived, designed, and analyzed experiments. CSC provided the HDAC inhibitors. SM and WCK drafted the manuscript. All authors contributed to, read and approved the final manuscript.
Competing interests
CSC is an inventor of AR-42, which is licensed by The Ohio State University to Arno Therapeutics, Inc. (Flemington, NJ). The other authors declare they have no competing interests.
Consent for publication
Not applicable.
Ethics approval and consent to participate
Not applicable.
Open Access
This article is distributed under the terms of the Creative Commons Attribution 4.0 International License (
http://​creativecommons.​org/​licenses/​by/​4.​0/​
), which permits unrestricted use, distribution, and reproduction in any medium, provided you give appropriate credit to the original author(s) and the source, provide a link to the Creative Commons license, and indicate if changes were made. The Creative Commons Public Domain Dedication waiver (
http://​creativecommons.​org/​publicdomain/​zero/​1.​0/​
) applies to the data made available in this article, unless otherwise stated.