01.08.2011 | Research article | Ausgabe 4/2011 Open Access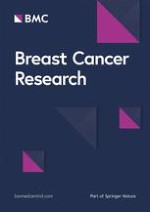 Septin 9 isoform expression, localization and epigenetic changes during human and mouse breast cancer progression
Zeitschrift:
Autoren:

Diana Connolly, Zhixia Yang, Maria Castaldi, Nichelle Simmons, Maja H Oktay, Salvatore Coniglio, Melissa J Fazzari, Pascal Verdier-Pinard, Cristina Montagna
Wichtige Hinweise
Electronic supplementary material
Diana Connolly, Zhixia Yang contributed equally to this work.
Competing interests
The authors declare that they have no competing interests.
Authors' contributions
DC carried out the methylation, real-time qRT-PCR and migration studies, as well as the immunofluorescence analysis, cell line and tissue sample collection and preparation, and edited and revised the manuscript. ZY performed the FISH and luciferase experiments and generated the GFP fusion clones. MC is the surgeon and NS and MHO are the pathologists who provided samples for analysis. SC supervised the migration assays. PVP performed the Western blot analysis and gave advice on manuscript preparation and revision. CM supervised the study and is responsible for the writing of the manuscript. All authors read and approved the final version of the manuscript.
Abstract
Introduction
Altered expression of Septin 9 (
SEPT9
), a septin coding for multiple isoform variants, has been observed in several carcinomas, including colorectal, head and neck, ovarian and breast, compared to normal tissues. The mechanisms regulating its expression during tumor initiation and progression
in vivo
and the oncogenic function of its different isoforms remain elusive.
Methods
Using an integrative approach, we investigated
SEPT9
at the genetic, epigenetic, mRNA and protein levels in breast cancer. We analyzed a panel of breast cancer cell lines, human primary tumors and corresponding tumor-free areas, normal breast tissues from reduction mammoplasty patients, as well as primary mammary gland adenocarcinomas derived from the polyoma virus middle T antigen, or PyMT, mouse model. MCF7 clones expressing individual GFP-tagged SEPT9 isoforms were used to determine their respective intracellular distributions and effects on cell migration.
Results
An overall increase in gene amplification and altered expression of
SEPT9
were observed during breast tumorigenesis. We identified an intragenic alternative promoter at which methylation regulates
SEPT9_v3
expression. Transfection of specific GFP-SEPT9 isoforms in MCF7 cells indicates that these isoforms exhibit differential localization and affect migration rates. Additionally, the loss of an uncharacterized SEPT9 nucleolar localization is observed during tumorigenesis.
Conclusions
In this study, we found conserved
in vivo
changes of
SEPT9
gene amplification and overexpression during human and mouse breast tumorigenesis. We show that DNA methylation is a prominent mechanism responsible for regulating differential
SEPT9
isoform expression and that breast tumor samples exhibit distinctive SEPT9 intracellular localization. Together, these findings support the significance of SEPT9 as a promising tool in breast cancer detection and further emphasize the importance of analyzing and targeting SEPT9 isoform-specific expression and function.