01.12.2014 | Research article | Ausgabe 1/2014 Open Access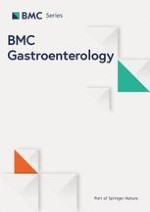 Sequential algorithm analysis to facilitate selective biliary access for difficult biliary cannulation in ERCP: a prospective clinical study
Zeitschrift:
Autoren:

Tae Hoon Lee, Soon Oh Hwang, Hyun Jong Choi, Yunho Jung, Sang Woo Cha, Il-Kwun Chung, Jong Ho Moon, Young Deok Cho, Sang-Heum Park, Sun-Joo Kim
Wichtige Hinweise
Electronic supplementary material
The online version of this article (doi:
10.​1186/​1471-230X-14-30
) contains supplementary material, which is available to authorized users.
Competing interest
The authors declare that they have no conflict of interest.
Authors' contributions
Guarantor of the article:
THL, MD, PhD.
Conception and design of the study: THL; Generation, assembly, analysis of data, interpretation of data and statistical analysis: SOH, THL, YHJ, HJC, SWC, IKC; The critical revision of the manuscript for important intellectual content: JHM, YDC, SHP, SJK; and drafting of the paper: SOH, THL. Approval of the final draft submitted was taken by all authors. All coauthors read and approved the manuscript and provided substantial suggestions.
Abstract
Background
Numerous clinical trials to improve the success rate of biliary access in difficult biliary cannulation (DBC) during ERCP have been reported. However, standard guidelines or
s
equential protocol analysis according to different methods are limited in place. We planned to investigate a sequential protocol to facilitate selective biliary access for DBC during ERCP.
Methods
This prospective clinical study enrolled 711 patients with naïve papillae at a tertiary referral center. If wire-guided cannulation was deemed to have failed due to the DBC criteria, then according to the cannulation algorithm early precut fistulotomy (EPF; cannulation time > 5 min, papillary contacts > 5 times, or hook-nose-shaped papilla), double-guidewire cannulation (DGC; unintentional pancreatic duct cannulation ≥ 3 times), and precut after placement of a pancreatic stent (PPS; if DGC was difficult or failed) were performed sequentially. The main outcome measurements were the technical success, procedure outcomes, and complications.
Results
Initially, a total of 140 (19.7%) patients with DBC underwent EPF (n = 71) and DGC (n = 69). Then, in DGC group 36 patients switched to PPS due to difficulty criteria. The successful biliary cannulation rate was 97.1% (136/140; 94.4% [67/71] with EPF, 47.8% [33/69] with DGC, and 100% [36/36] with PPS; P < 0.001). The mean successful cannulation time (standard deviation) was 559.4 (412.8) seconds in EPF, 314.8 (65.2) seconds in DGC, and 706.0 (469.4) seconds in PPS (P < 0.05). The DGC group had a relatively low successful cannulation rate (47.8%) but had a shorter cannulation time compared to the other groups due to early switching to the PPS method in difficult or failed DGC. Post-ERCP pancreatitis developed in 14 (10%) patients (9 mild, 1 moderate), which did not differ significantly among the groups (P = 0.870) or compared with the conventional group (P = 0.125).
Conclusions
Based on the sequential protocol analysis, EPF, DGC, and PPS may be safe and feasible for DBC. The use of EPF in selected DBC criteria, DGC in unintentional pancreatic duct cannulations, and PPS in failed or difficult DGC may facilitate successful biliary cannulation.