01.12.2015 | Research article | Ausgabe 1/2015 Open Access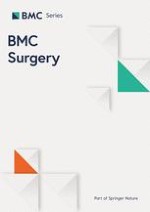 Serious mental illnesses associated with receipt of surgery in retrospective analysis of patients in the Veterans Health Administration
Zeitschrift:
Autoren:

Laurel A. Copeland, John E. Zeber, Edward Y. Sako, Eric M. Mortensen, Mary Jo Pugh, Chen-Pin Wang, Marcos I. Restrepo, Julianne Flynn, Andrea A. MacCarthy, Valerie A. Lawrence
Wichtige Hinweise
Competing interests
Authors declare no conflicts of interests beyond employment by and receipt of grant support from the institution under study (Veterans Health Administration). The funders had no role in the conduct of the study or in the preparation of this report. The views expressed in this article are those of the authors and do not necessarily represent the views of the Department of Veterans Affairs.
Authors' contributions
Authors made appropriate contributions to the paper. LAC conceptualized and conducted the study, acquired data, contributed to variable development and verification, organized the analyses, drafted the paper, and finalized the draft. EYS (clinician, surgeon) and VAL (clinician, perioperative) contributed to variable development, interpreted results in the surgical setting, contributed to the writing and reviewed the final draft. CPW contributed to study design and variable development, proposed analytic approaches and contributed to the interpretation of results. EMM (clinician, infectious diseases), MIR (clinician, ICU), and JF (clinician, psychiatrist) contributed to study design, variable development, and clinical implications. MJP and JEZ informed study design, analysis, and manuscript organization. AAM contributed to data acquisition, variable development and verification, analysis, and description of results. All authors reviewed and approved the final draft and take responsibility for the study results reported. All authors read and approved the final manuscript.
Abstract
Background
The STOPP study (Surgical Treatment Outcomes for Patients with Psychiatric Disorders) analyzed variation in rates and types of major surgery by serious mental illness status among patients treated in the Veterans Health Administration (VA). VA patients are veterans of United States military service who qualify for federal care by reason of disability, special service experiences, or poverty.
Methods
STOPP conducted a secondary data analysis of medical record extracts for seven million VA patients treated Oct 2005-Sep 2009. The retrospective study aggregated inpatient surgery events, comorbid diagnoses, demographics, and postoperative 30-day mortality.
Results
Serious mental illness -- schizophrenia, bipolar disorder, posttraumatic stress disorder, or major depressive disorder, was identified in 12 % of VA patients. Over the 4-year study period, 321,131 patients (4.5 %) underwent surgery with same-day preoperative or immediate post-operative admission including14 % with serious mental illness. Surgery patients were older (64 vs. 61 years) and more commonly African-American, unmarried, impoverished, highly disabled (24 % vs 12 % were Priority 1), obese, with psychotic disorder (4.3 % vs 2.9 %). Among surgery patients, 3.7 % died within 30 days postop. After covariate adjustment, patients with pre-existing serious mental illness were relatively less likely to receive surgery (adjusted odds ratios 0.4-0.7).
Conclusions
VA patients undergoing major surgery appeared, in models controlling for comorbidity and demographics, to disproportionately exclude those with serious mental illness. While VA preferentially treats the most economically and medically disadvantaged veterans, the surgery subpopulation may be especially ill, potentially warranting increased postoperative surveillance.