16.03.2018 | Original Article | Ausgabe 4/2018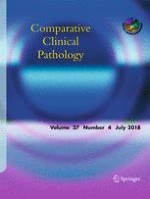 Sero-epidemiological study of peste des petits ruminants in small ruminants in Amahara region, Ethiopia
Zeitschrift:
Autoren:

Tsegaw Fentie, Yechale Teshome, Birhanu Ayele, Wassie Molla, Nigusie Fenta, Seleshe Nigatu, Ashenafe Assefa, Samson Leta
Abstract
Peste des petits ruminants (PPR) is an acute, highly contagious, and economically important transboundary viral disease of sheep and goats. It is among the major infectious diseases that affect the production and productivity of small ruminants in Ethiopia. Cross-sectional and retrospective studies were undertaken to estimate the sero-prevalence, risk factors, and distribution of PPR in Amhara region. A total of 672 (329 sheep and 343 goats) sera were collected from 30 kebeles in 10 districts. Of the 672 sheep and goat sera samples tested using c-ELISA, 123 were positive for PPR antibodies, with the overall prevalence of 18.30% (95%CI 15.37, 21.24). The sero-prevalence of PPR was 21.57% (95%CI 17.15, 25.86) in goats and 14.89% (95%CI 10.96–18.65) in sheep. The variation of sero-prevalence among study zones was statistically significant (
p
 < 0.05). The highest sero-prevalence was reported in Awi zone (55.34%) followed by South Gondar (15.89%), North Gondar (13.64%), East Gojjam (7.93%), and West Gojjam (6.62%) zones. Among host- and environment-related risk factors, species, sex, agro-ecology, and location of the study were significantly associated with PPR sero-positivity. The analysis of 5-year retrospective data (2010–2014) revealed high occurrence of PPR in the Amhara region with a total occurrence of 63 outbreaks (3978 cases and 919 deaths). In conclusion, the study revealed that PPR is an important and widely distributed disease of small ruminants in Amhara region. Appropriate control strategy including regular surveillance and vaccination is recommended to mitigate the challenge of PPR.