23.10.2018 | Original Article | Ausgabe 4/2018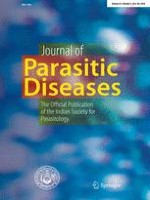 Seroepidemiological evaluation of
Toxoplasma gondii

immunity among the general population in southwest of Iran
Zeitschrift:
Autoren:

Shahrzad Soltani, Masoud Foroutan, Hamed Afshari, Maryam Hezarian, Mehdi Sagha Kahvaz
Abstract
Toxoplasmosis is a cosmopolitan zoonotic infection, caused by a unicellular protozoan parasite known as
Toxoplasma gondii
(
T. gondii
) that belongs to the phylum Apicomplexa. The present investigation was aimed to evaluate the seroprevalence of
T. gondii
infection in the general population of Abadan city. In this cross-sectional study, a total of 496 subjects were participated. Anti-
T. gondii
IgG and IgM antibodies were tested using commercially available enzyme-linked immunosorbent assay (ELISA). Moreover, a structured questionnaire was completed for each person. Out of 496 subjects, 188 (37.9%) and 30 (6.05%) samples were seropositive for IgG and IgM, respectively. The more seroprevalence was found during spring season, among female subjects, in rural inhabitants, in persons with the education level of diploma or lower, from the subjects with a history of contact with cat, in individuals who consumed raw/undercooked meat, and amongst who drink unpurified water. The results showed that inhabitants of tropical areas, may be moderately exposed to
T. gondii
. Increase of knowledge of people about toxoplasmosis, certainly affects in reduction of the infection.