01.12.2018 | Research article | Ausgabe 1/2018 Open Access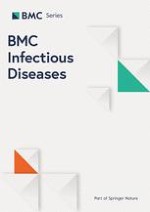 Serological evaluation for Chagas disease in migrants from Latin American countries resident in Rome, Italy
Zeitschrift:
Autoren:

Stefania Pane, Maria Letizia Giancola, Pierluca Piselli, Angela Corpolongo, Ernestina Repetto, Rita Bellagamba, Claudia Cimaglia, Stefania Carrara, Piero Ghirga, Alessandra Oliva, Nazario Bevilacqua, Ahmad Al Rousan, Carla Nisii, Giuseppe Ippolito, Emanuele Nicastri
Abstract
Background
Chagas disease (CD) is a systemic parasitic infection caused by the protozoan
Trypanosoma cruzi,
whose chronic phase may lead to cardiac and intestinal disorders. Endemic in Latin America where it is transmitted mainly by vectors, large-scale migrations to other countries have turned CD into a global health problem because of its alternative transmission routes through blood transfusion, tissue transplantation, or congenital. Aim of this study was to compare the performance of two commercially available tests for serological diagnosis of CD in a group of Latin American migrants living in a non-endemic setting (Rome, Italy). The study was based on a cross-sectional analysis of seroprevalence in this group. Epidemiological risk factors associated to CD were also evaluated in this study population.
Methods
The present study was conducted on 368 subjects from the Latin American community resident in Rome. Following WHO guidelines, we employed a diagnostic strategy based on two tests to detect IgG antibodies against
T. cruzi
in the blood (a lysate antigen-based ELISA and a chemiluminescent microparticle CMIA composed of multiple recombinant antigens), followed by a third test (an immunochromatographic assay) on discordant samples.
Results
Our diagnostic approach produced 319/368 (86.7%) concordant negative and 30/368 (8.1%) concordant positive results after the first screening. Discrepancies were obtained for 19/368 (5.2%) samples that were tested using the third assay, obtaining 2 more positive and 17 negative results. The final count of positive samples was 32/368 (8.7% of the tested population). Increasing age, birth in Bolivia, and previous residence in a mud house were independent factors associated with
T. cruzi
positive serology.
Conclusions
Serological diagnosis of CD is still challenging, because of the lack of a reference standard serological assay for diagnosis. Our results reaffirm the importance of performing CD screening in non-endemic countries; employing a fully automated and highly sensitive CMIA assay first could be a cost- and resource-effective strategy for mass screening of low-risk patients. However, our results also suggest that the WHO strategy of using two different serological assays, combined with epidemiological information, remains the best approach for patients coming from endemic countries.