01.12.2017 | Research | Ausgabe 1/2017 Open Access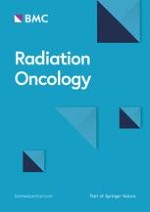 Seroma change during magnetic resonance imaging-guided partial breast irradiation and its clinical implications
Zeitschrift:
Autoren:

Seung Hyuck Jeon, Kyung Hwan Shin, So-Yeon Park, Jung-in Kim, Jong Min Park, Jin Ho Kim, Eui Kyu Chie, Hong-Gyun Wu
Background
Radiotherapy is an effective modality for reducing the recurrence rate and breast cancer mortality after breast-conserving surgery [
1
,
2
]. Based on the spatial pattern of recurrence, partial breast irradiation (PBI) can be introduced as an alternative to conventional whole-breast irradiation followed by boost in selected patients with early breast cancer, aiming for a short treatment time and reduced toxicity. Several randomized trials and recent meta-analyses have reported comparable oncologic outcomes with PBI [
3
–
6
]. As more evidence is accumulated, the scope of indications for PBI is expanding [
7
].
In PBI, defining the optimal target volume is crucial to thoroughly cover the area at risk and to simultaneously minimize toxicity. The target volume of PBI is defined as tissues surrounding the tumor bed [
8
]. After superficial closure of the excision cavity, the tumor bed often appears as a seroma [
9
,
10
], which makes target definition more clear and consistent. Seroma volume (SV) is well-known to typically shrink with time [
11
–
17
]. Therefore, an ideal target volume should differ in each PBI fraction. Several studies have reported the benefits of adaptive planning of tumor bed boost concomitant with or following whole-breast irradiation [
18
–
21
], and reducing the treatment volume by replanning in PBI is also likely to improve normal tissue protection.
In light of the seroma definition and re-imaging for adaptive radiotherapy, magnetic resonance imaging (MRI) has several advantages over computed tomography (CT). MRI provides improved visibility of the seroma [
22
], facilitating both the delineation of the tumor bed and the monitoring of its volume, whereas breast parenchyma may prevent the clear visualization of seromas in CT. The lack of radiation exposure is another advantage of MRI. Therefore, the MRI-guided technique is believed to be superior to conventional CT-based radiotherapy in PBI. However, because MRI is not routinely exploited in breast cancer, to date no studies have focused on MRI-based SV changes during PBI. Therefore, we conducted a retrospective analysis to investigate the patterns of SV change. Our objectives were to build a simple mathematical formula to explain SV change, identify clinical factors associated with the patterns, and propose the benefits of replanning halfway through the course of treatment.
Methods
Patient selection
In our institution, indications of PBI are as follows: age 50 years or more, invasive ductal carcinoma, pathologic stage T1N0, luminal A subtype, adequate surgical margin, and no chemotherapy. From October 2015 to July 2016, 55 patients received PBI and 38 patients developed a well-defined post-lumpectomy seroma (seroma with cavity visualization score, which was defined by Landis et al. [
23
], of 4 or 5), including one patient with a seroma lying from the primary site to an axillary region, which was, in part, believed to be generated from a sentinel node biopsy and was thus excluded from the analysis. Seroma aspiration was not performed in any patient. The final analysis was performed with data derived from 37 patients. The Central Review Board of Seoul National University Hospital approved the entire course of this study.
Treatment and MRI scanning
Radiotherapy was started no more than 6 weeks after lumpectomy. Patients underwent both CT and MRI on the same day, as part of the simulation. Patients were scanned in the supine position using a custom vacuum-lock bag for arm elevation, knee support, and a body coil on the chest for MRI acquisition. The simulation MRI was performed with ViewRay (MRIdian, Oakwood Village, OH, USA) equipped with three 60Co sources and a 0.35 T MRI device. Ten fractions (38.5 Gy, one fraction daily) were prescribed to all patients and were delivered by the same system. It was recommended that patients sustain shallow respiration during simulation and treatment. PBI was initiated 1 week or more following simulation. All 10 fractions were delivered following MRI acquisition and after correcting setup errors. Spatial resolution of MRI at simulation and treatment was 1.5 x 1.5 x 1.5 mm.
Contouring and analyses
All MRI scans obtained from the ViewRay system were imported into Eclipse System (Varian Medical System, Palo Alto, CA, USA) for contouring and volume calculation. Among total of 11 MRI sets for each patient, four MRI sets obtained in approximately 1-week intervals (i.e. simulation, and 1st, 6th, and 10th fractions) were analyzed to avoid misinterpretations caused by intrapersonal variability, which could be greater than the daily SV difference.
Structure delineation was conducted by one author (Jeon SH). Contouring for one patient was performed on the same day to minimize intrapersonal variation. Changes in SV were classified into three categories: decrease, increase, and stationary. Considering the intrapersonal contouring variability, -3% and +3% of change was defined as the threshold for a decrease and increase of SV, respectively. The SV was considered stationary when the difference was between -3% and +3%; the cutoff value was based on our experience regarding intrapersonal variability.
According to our institution's policy, the clinical target volume (CTV) was defined as unequal expansion of 10–15 mm from seroma. An expanded margin of a certain direction was determined according to the resection margin status: a 10 mm expansion to the directions with a 10 mm or larger resection margin, and a 15 mm expansion with less than a 10 mm resection margin. The CTV was limited to 3 mm below the skin surface and chest wall/pectoral muscles. CTV modification on the superficial region was allowed when the seroma was close to the skin surface. Planning target volume (PTV) was identical with CTV, because application of differential margin may obviate the need of larger margin and we performed image-guided therapy in every fraction. Initial and adapted PTVs were contoured on the simulation and 6th fraction images, respectively, and their difference (ΔPTVsim-6th) was considered to be the volume of spared normal tissue from adaptive planning.
Statistical analysis
All statistical analyses were performed using SPSS (version 22.0 SPSS Inc., IBM). Quantitative data are expressed as the mean ± standard deviation. Student's
t
-test was used to assess the mean difference. The Kolmogorov-Smirnov test was used to determine whether continuous variables follow a normal distribution and Pearson's correlation analysis was performed to investigate the relationship between two continuous variables. All statistical analyses were considered significant when
p
<0.05.
Results
Discussion
The limitations of the current analysis include small number of patients, limited role of seroma on target volume delineation, and absence of dosimetric data. After closed cavity surgery, seroma is not visible on postoperative imaging. In our institution, 17 (31%) out of 55 patients showed no visible seroma on postoperative MRI and our results cannot be applied to these patients. In addition, we did not demonstrate dosimetric advantages of adaptive planning, which may suggest practical guideline. Therefore, further studies regarding the dosimetric improvement in adaptive planning in PBI are needed to establish the selection criteria for replanning.
In summary, we described the patterns of SV change using MRI and proposed a mathematical representation for SV prediction. Because the current study elaborates on SV changes taking place before approximately 2 months after lumpectomy, the results should be applied with caution to patients receiving conventional whole-breast irradiation, especially after chemotherapy.
Conclusions
After lumpectomy, seromas exhibit exponential shrinkage over time. In patients receiving PBI, frequent monitoring of SV could be helpful in decision-making regarding adaptive planning, especially those with a large seroma.
Acknowledgements
Not applicable.
Funding
This study was not supported by outside funding.
Availability of data and material
The datasets analyzed during the current study are available from the corresponding author on request.
Authors' contributions
SKH is the principle investigator of this study and made contributions to the protocol design. JSH analyzed and interpreted the data, and drafted the manuscript. PSY was responsible for data analysis and manuscript revision. KJI, PJM, CEK, KJH, and WHG participated in protocol design manuscript revision. All authors have reviewed and approved the final version of the manuscript.
Competing interests
The authors declare that they have no competing interests.
Consent for publication
Not applicable.
Ethics approval and consent to participate
This retrospective study was approved by the institutional review board of Seoul National University Hospital.
Publisher's Note
Springer Nature remains neutral with regard to jurisdictional claims in published maps and institutional affiliations.
Open Access
This article is distributed under the terms of the Creative Commons Attribution 4.0 International License (
http://​creativecommons.​org/​licenses/​by/​4.​0/​
), which permits unrestricted use, distribution, and reproduction in any medium, provided you give appropriate credit to the original author(s) and the source, provide a link to the Creative Commons license, and indicate if changes were made. The Creative Commons Public Domain Dedication waiver (
http://​creativecommons.​org/​publicdomain/​zero/​1.​0/​
) applies to the data made available in this article, unless otherwise stated.