15.10.2018 | Original Article | Ausgabe 4/2018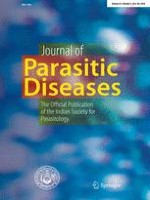 Seroprevalence, isolation, molecular detection and genetic diversity of
Toxoplasma gondii

from small ruminants in Egypt
Zeitschrift:
Autoren:

Khaled A. Abd El-Razik, Ashraf M. A. Barakat, Hany A. Hussein, Abdelgayed M. Younes, Hassan A. Elfadaly, Hazem A. Eldebaky, Yousef A. Soliman
Abstract
Toxoplasmosis is an infectious zoonotic disease caused by protozoan
Toxoplasma gondii
. Detection of
T. gondii
infection with touchy and particular strategies is a key advance to control and prevent toxoplasmosis. Genotyping can explain the virulence, epidemiology and setting up new methodologies for diagnosis and control in human and animals. The point of this study was to assess the seroprevalence of
T. gondii
in sheep and goat in Egypt and to comprehend the genetic variety of
T. gondii
isolates circling in Egypt. Blood samples were gathered from 113 ewes and 95 she-goats from three Egyptian governorates (Cairo, Giza and Al-Sharkia). Also blood and tissue samples were gathered from 193 sheep and 51 goats from Cairo and Giza abattoirs. All samples were assayed serologically utilizing ELISA and OnSite Toxo IgG/IgM Rapid test cassettes (OTRT) tests and the tissue samples of the seropositive animals were digested and microscopically examined then bio-assayed in mice as viability test. All the
T. gondii
isolates undergo molecular identification using PCR and genotyped utilizing nPCR/RFLP analysis of SAG2 gene. The total seropositivity of live sheep and goat was 47.15 and 39.2% utilizing ELISA and OTRT respectively. Concerning abattoirs, seropositivity, positive microscopic examination, mice viability from sheep samples were 47.1%, 37.3% and 44.1% respectively while that of goats were 45.5%, 33.3% and 48.6% respectively. Eighteen
T. gondii
isolates were affirmed utilizing PCR. Genotyping confirmed 10 isolates (55.5%) as type II, 6 (33.3%) as type III and 2 (11.1%) as atypical genotypes. Type II and III are the genotypes mostly circling among small ruminants in Egypt and this is most significance for the public health in Egypt.